As I mentioned in my previous blog-entry, the latest Covid-19 lockdown in Sri Lanka, which was imposed for a good part of May and June, has recently been relaxed.  This relaxation has allowed some eating and drinking places to re-open.
However, one place that my partner and I have often retreated to in the past, when we've felt the need for calm and a touch of soothing, old-school luxury (to convey the illusion for a few hours that we've actually got money), remains off-limits to us.  This is the Traveller's Bar and its lovely outdoor verandah, which overlooks the Indian Ocean, at Colombo's Galle Face Hotel.  For now, the bar and verandah are open only for hotel guests, not outside customers.  This is a shame because few things are as good for the soul as sitting there between six and six-thirty on a clear evening and watching the sky segue from one gorgeous colour to another while the sun sinks behind the distant waves.
The Galle Face Hotel will soon be a venerable 120 years old and it's prestigious enough to have featured in Patricia Schultz's 2003 travel book 1000 Places to See Before You Die.  Predictably, during its long history, it has accommodated some very famous guests.  Many of these are commemorated by a gallery of framed photographs adorning the interior of the Traveller's Bar, with information about the years, occasionally just the decades, when they stayed there.
Among the earliest people featured in the gallery are writers.  You see Anton Chekov (credited with being at the Galle Face in 1890), George Bernard Shaw (in the 1930s), W. Somerset Maugham (the 1920s), Noel Coward (1944) and Evelyn Waugh (the 1950s).  D.H. Lawrence showed up there in 1922, presumably either on his way to or from the 99-day sojourn he had in Australia that gave rise to his novel Kangaroo, published the following year.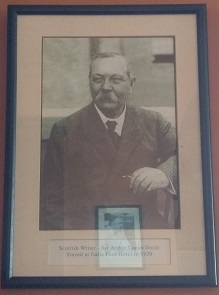 One literary hero of mine, Sir Arthur Conan Doyle, stayed at the Galle Face Hotel in 1920 and, unimpressed by its prices, described it as 'a place where the preposterous charges are partly compensated for by the glorious rollers that break upon the beach outside."  He was also unimpressed by the equally famous Mount Lavinia Hotel, which in those days stood beyond the southern edge of Colombo.  "There are two robbers' castles, as the unhappy visitor calls them, facing the glorious sea, the one Galle Face, the other the Mount Lavinia Hotel." At least he appreciated the journey between the castles: "They are connected by an eight-mile road, which has all the colour and life and variety of the East for every inch of the way."
At this point Doyle was heavily into spiritualism and had been gullible enough to believe that the notoriously faked Cottingley fairies were real.  However, he retained enough of his wits not to be taken in by a display of the famous 'mango-tree' trick, which a Sri Lankan magician did for him just outside the hotel.  Doyle praised the magician's skill, though: "He did it so admirably that I can well understand those who think that it is an occult process."
I'm perplexed by the presence of a portrait of James Joyce, supposedly a guest of the Galle Face in 1904.  (Coincidentally, June 16th, 1904, was the date of 'Bloomsday', the day during which all the events of Joyce's 1922 masterpiece Ulysses take place).  To the best of my knowledge, he never travelled outside Europe, let alone visited southern Asia.  In fact, the only connections I can dig up between Joyce and Sri Lanka are that: (1) he makes mention of the 'Cinghalese' in Ulysses; and (2) he was known to own a copy of Henry Olcott's Buddhist Catechism According to the Sinhalese Canon – Olcott was the American army officer who became the first president of the Theosophical Society and was an important figure in the revival of Buddhism in Sri Lanka, so much so that he's honoured with a statue in front of Fort Railway Station today.
Perhaps somebody else with the name 'James Joyce' stayed at the hotel in 1904?
One writer not displayed in the Traveller's Bar is legendary science-fiction scribe Sir Arthur C. Clarke, even though it was in the Galle Face that he supposedly wrote the last chapters of the last volume of his Space Odyssey series, 3001: The Final Odyssey (1997).  However, Clarke had lived in Sri Lanka since 1956, so he wasn't really what you'd call a 'visitor' or a 'guest'.
The Traveller's Bar gallery is mostly a collection of the great and good, but it has at least one rogue in it, namely Richard Nixon.  He stayed at the hotel in the 1950s, sometime before he became the second-most crooked US president in modern history.  Other political dignitaries who were guests there include father and daughter Indian Prime Ministers Pandit Jawaharlal Nehru (1950) and Indira Gandhi (1976); and iconic revolutionary Che Guevara, whose portrait says he stayed in 1958, although according to a feature in Sri Lanka's FT his visit was actually in August 1959.  He'd come to Sri Lanka because it was one of the first countries to recognize Castro's Cuba.
From the mid-20th century onwards, Sri Lanka began to appeal as an exotic location to Western filmmakers and so the Galle Face Hotel had Hollywood movie stars stay while on their way to or from film shoots.  These include Sir Alec Guinness (1957), in town for the making of Bridge on the River Kwai and, I have to say, looking a bit shifty in his photograph; Harrison Ford (1983), there to make Indiana Jones and the Temple of Doom (whose production had switched from India to Sri Lanka after the Indian government objected to the 'thuggee' elements in its script); and Ursula Andress, whom I trust enjoyed her stay in Sri Lanka in 1976 even though she probably prefers to forget the film she made there, the Italian horror movie The Mountain of the Cannibal God, directed by Sergio Martini and considered so offensive in Britain that it was classified as a 'video nasty' and banned until 2001.
Andress, of course, found international fame as the very first Bond girl.  Meanwhile, the man responsible for the third cinematic incarnation of James Bond, Roger Moore, appears in the Traveller's Bar too.  He's said to have stayed at the hotel in the 1960s, but he's depicted in his famous 1970s Bondian bowtie and dinner-suit, so the photo obviously wasn't taken at the time.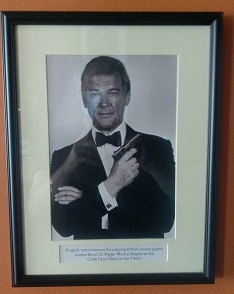 One star in the Traveller's Bar who's rather forgotten nowadays is Lex Barker, who took over the role of Tarzan from Johnny Weissmuller in 1949.  Barker's picture says he was there in the 1950s, although the only thing I can find in his filmography that was made in Sri Lanka was a 1963 movie called Storm Over Ceylon.  While Barker's Hollywood Tarzan movies were too low-budget to be filmed on location in a tropical country like Sri Lanka, money was not a problem for Bo Derek and her director-husband John Derek, who used Sri Lanka for the jungle scenes of their notorious, mammary-obsessed Tarzan the Ape Man (1981), while using the Maldives for its beach scenes.  For their salacious take on Edgar Rice Burroughs' Lord of the Jungle, Bo, John and their crew imported some decidedly non-native wildlife into the country.  According to an article in the New York Times, they brought with them a lion (called Dandi), an orangutan (called C.J.), three chimpanzees, two Irish wolfhounds and an 18-foot, 120-pound python.  Thus, Ms Derek is now commemorated by a portrait in the Traveller's Bar as well.
A nice story is attached to Gregory Peck, who stayed in 1954 whilst making a film called The Purple Plain.  Apparently, he came down with a nasty bout of flu, but recovered with the help of a traditional local remedy of plain tea incorporating inguru and kothamalli (ginger and coriander).  In the 1950s Peck was a global heartthrob and his use of this remedy didn't go unnoticed by his lady admirers in Sri Lanka.  As another article in the Daily FT observes: "It used to be said in lighter vein those days that many upper-class ladies of Colombo 7 began drinking ginger / coriander tea only after Gregory Peck told them about it."
Finally, the gallery sports a picture of the first man in space, Yuri Gagarin, symbolically holding a white dove.  The great Russian cosmonaut came to Sri Lanka in 1961 and among the things done to mark the visit was the planting of a tree in his honour at the botanical gardens in Peradeniya, close to Kandy.  According to a piece published by the Russian Centre for Science and Culture in Colombo, the tree was said to have stopped growing at the time of Gagarin's death in a jet crash in 1968.  However, mysteriously, it continued to live, so that it's resembled a young tree for the past half-century.  This is contradicted by an article in Ceylon Today, which claims it merely fell ill at the time of Gagarin's death, but recovered and kept on growing.  I was at the botanical gardens a few years ago and really wish I'd examined the Yuri Gagarin tree to find out which of these accounts was true.