© New English Library
We're into October now, a month that ends with the scary festival of Halloween. In keeping with the spirit of the season, I thought I would repost on this blog a few old entries that have a macabre, and hence Halloween-y, theme.  I'll start with this item, which I originally wrote in 2017.  It's about my favourite volumes of short horror stories: books that deliver a series of short, sharp shocks. 
These are the ten collections of short horror stories that have had the biggest impact on me.  To keep this exercise manageable, I've limited it to collections written by a single author.  And the authors included are ones who are still alive or were alive when I started reading their work.  Hence, no Edgar Allan Poe, Sir Arthur Conan Doyle, M.R. James, H.P. Lovecraft or Arthur Machen.
Blood and Water and Other Tales (1988) by Patrick McGrath
Patrick McGrath has spent his career writing fiction that shows his love for the gothic and grotesque but, in a rare display of broad-mindedness, critics have avoided pigeonholing him as a 'horror' or 'fantasy' writer and treated him as a serious mainstream-literary figure instead.  What a lucky man he is.  Blood and Water… showcases McGrath's short fiction and features, among other things, a diseased angel (The Angel), a hand that starts growing out of an unexpected place (The Black Hand of the Raj), a community of anaemic vampires (Blood Disease) and, most surreally, a girl who discovers a jungle explorer camped in the bushes at the bottom of her suburban garden (The Lost Explorer).  Particularly vivid is The E(rot)ic Potato, a meditation on decay told by a fly.  And an even less likely narrator relates the events of The Boot's Tale, an account of a nuclear holocaust that manages to be both horrible and funny.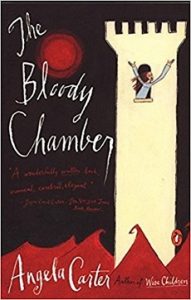 © Penguin
The Bloody Chamber (1979) by Angela Carter
Horror stories are often likened to dark fairy tales and Angela Carter's short fiction commonly explores the overlap between the two.  For me, The Bloody Chamber is her greatest collection.  It provides adult, gothic reworkings of such fairy tales and myths as Beauty and the Beast (The Courtship of Mr Lyon), Snow White (The Snow Child) and Bluebeard (the title story).  It also contains one of the most gorgeous vampire stories ever, The Lady of the House of Love.  And werewolves get a look-in too thanks to the stories The Company of Wolves, The Werewolf and Wolf-Alice, which were incorporated into the classy 1984 movie The Company of Wolves, directed by Neil Jordan and scripted by Jordan and Carter.
Books of Blood, Volume 1 (1984) by Clive Barker
In the mid-1980s Clive Barker caused a sensation with the publication of his six Books of Blood, which are basically six volumes of short horror stories linked by a clever framing device.  Such was their impact that Stephen King dubbed Barker the Beatles of horror writing – whilst likening himself to horror's slightly old-fashioned Elvis Presley.  To be honest, I found many stories in the later Books of Blood a tad pretentious; but Volume 1 is just about perfect in its blend of the funny, the profound and the hideously, graphically bloody.  Humour comes courtesy of the demonic-haunting spoof The Yattering and Jack and the charming supernatural-theatre story Sex, Death and Starshine (no doubt drawing on Barker's experiences running the Dog Company theatrical troupe in late 1970s and early 1980s).  Profundity is supplied by In the Hills, the Cities, which takes place in the then-Yugoslavia and spookily prefigures the Balkans conflicts of the 1990s.  And for sheer, gross horribleness you can't beat The Midnight Meat Train or Pig Blood Blues, the latter being one of my candidates for the title of Scariest Story Ever.
© Sphere
Dark Companions (1982) by Ramsey Campbell
Ramsey Campbell has long been regarded as Britain's greatest living horror writer and Dark Companions is an ideal starting-point for anyone new to the Campbell oeuvre.  Both grim and believable, his short stories take place in a recognisably frayed and decayed modern Britain, populated by lonely and frightened people whose everyday fears gradually and nightmarishly take on tangible form.  Highlights include the distinctly un-Christmassy Christmas story The Chimney; The Depths, a dismaying exploration of why someone would want to write a really nasty horror story; Mackintosh Willy, which combines childhood fears of the bogeyman with all-too-real themes of homelessness and child abuse; and The Companion, surely the best 'haunted fairground' story ever written.
Night Shift (1978) by Stephen King
I can't not include Night Shift here.  In my boyhood I'd go to scout summer-camps in the countryside near the Scottish town of Hawick.  During one camp I spent three days stuck almost permanently inside a tent because the Scottish weather was doing its normal thing and pissing non-stop with rain.  Luckily, in a Hawick bookshop beforehand, I'd bought a copy of Night Shift, a 1978 volume of Stephen King's short stories, and to keep boredom at bay, I read that during the three days.  It made a big impression.  King has produced slicker collections of short stories since, but the unpleasant things inhabiting the tales in Night Shift have stayed with me for 40 years.  A huge demonically-possessed laundry machine that rumbles into malevolent life (The Mangler)…  Giant mutant rats lurking in the basement of a factory (The Graveyard Shift)…  A man slowly transforming into a monstrous flesh-eating slug (Grey Matter)…  A Mafia-type organisation that helps you give up smoking by threatening to torture and kill your family every time you puff a new cigarette (Quitters Inc)…  No, Night Shift isn't subtle, but it certainly scared the bejesus out of me when I was a thirteen-year-old boy scout.
© Panther
The October Country (1955) by Ray Bradbury
Ray Bradbury is someone else I couldn't not have on this list as, to me, the guy was basically God.  He could turn his hand to writing anything – horror, science fiction, fantasy, magical realism and yes, our old friend 'mainstream literature' – but The October Country is probably his purest collection of macabre stories.  It features such pieces as The Scythe, about a man who finds a mysterious scythe, starts using it and becomes the Grim Reaper, harvesting souls rather than wheat; The Jar, wherein a man buys the titular jar at a fair and becomes obsessed with the indescribable something that's floating around inside it; and the splendidly-grisly Skeleton, about a paranoid man who becomes convinced that the bony figure embedded inside his own flesh is an imposter and takes action to evict it.
Shatterday (1980) by Harlan Ellison
Remarkably, the science fiction / fantasy writer Harlan Ellison managed to win fame by largely eschewing novels and writing masses of short stories instead.  Well, fame in the USA at least.  His name was little-known and his work hard to come by in Britain.  Among many collections, Shatterday is possibly his best.  Particularly memorable is the melancholy Jeffty is Five, about a little boy who refuses to grow up; The Man Who was Heavily into Revenge, about a schmuck who haplessly wrongs another person and then, inexplicably, finds the whole world venting its wrath upon him; Count the Clock That Tells the Time, a cautionary tale about the consequences of doing nothing meaningful with your life and frittering it away; and the unsettling title story, about a man who phones his own apartment one evening and finds himself talking to himself, or more precisely, to a sinister alter-ego who's planning to usurp him from his own existence.
© Penguin
Swamp Foetus (1993) by Poppy Z. Brite
New Orleans writer Poppy Z. Brite's collection Swamp Foetus was a revelation when I read it in the 1990s.  It's populated both with the archetypes of traditional gothic fiction – ghosts, zombies, freaks – and with the characters of another type of Gothicism, the modern-day sub-culture that arose when kids, inspired by punk, new romanticism and Edgar Allan Poe, started dressing in black, applying kohl eyeliner and listening to bands like the Sisters of Mercy and the Cure.  Swamp Foetus thus has stories like His Mouth Will Taste of Wormwood where decadent, black-clad, absinthe-swigging youths fall foul of ancient voodoo / vampire horrors.  That said, no Goths are to be found in the best story here, which is Calcutta, Lord of Nerves.  Calcutta takes a fresh angle on George A. Romero's original trilogy of Living Dead movies.  In the films, Romero's zombie apocalypse is a very American one, with barely a mention of events in the rest of the world.  As its title suggests, Brite imagines the same apocalypse happening in the capital city of West Bengal.  What happens?  Nobody seems to notice it that much.
Thou Shalt Not Suffer a Witch (1996) by Dorothy K. Haynes
Scottish writer Dorothy K. Haynes is much underrated.  Her stories, often set in the dour, oppressive society of 1930s, 1940s and 1950s Scotland, when the Presbyterian Church still had undue influence, are impressively disturbing in their quiet way.  Perhaps most disturbing is The Peculiar Case of Mrs Grimmond, about an old woman who takes pity on a strange, unidentified little animal that her cat drags into the house one day and, while she looks after and nurtures it, incurs the wrath of the community around her.  Haynes also tackles myth and legend.  Her very Scottish takes on such fabled creatures as banshees (The Bean-Nighe), fairies (Paying Guests) and changelings (The Changeling) are satisfyingly grim and creepy.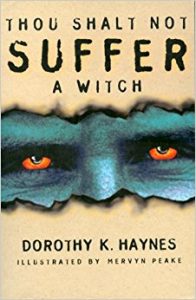 © Black and White Publishing
The Wine-Dark Sea (1988) by Robert Aickman
I've written about Robert Aickman before on this blog, so I will just say here that this, for me, is his finest collection of stories.  There's one stinker among its contents, the supposedly satirical Growing Boys, which is an unwelcome reminder that, first-rate writer though he was, Aickman was also a grumpy, reactionary, modernity-hating conservative.  However, everything else is excellent, if frequently challenging and baffling.  The Inner Room is a phantasmagorical story about a weird doll's house.  Never Visit Venice pokes fun at the modern phenomenon of mass tourism with its an account of an unwary visitor to the title city taking a ride on a gondola from hell.  And Your Tiny Hand is Frozen, about an unsociable man becoming addicted to a telephone, through which he communicates with a strange woman who may or may not exist, shows Aickman's unease about the loss of face-to-face interaction that new communications technology was causing – the story was written in 1953.  Maybe it's just as well Aickman passed away in 1982.  He'd have really hated our era of smartphones and social media.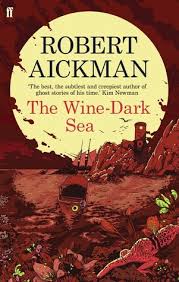 © Faber & Faber