© Eon Productions
When I'm browsing through a newspaper or magazine website, or a website devoted to popular culture, no headline is more likely to fill me with despair than the one ALL THE JAMES BOND FILMS RANKED FROM WORST TO BEST.  (Well, maybe except for the headline FLEETWOOD MAC TO RELEASE NEW ALBUM.)  That's because such articles invariably get Bond wrong.  And that's because they're written by young, acne-pocked dipshits with zero life experience and less-than-zero knowledge of James Bond in either his cinematic or literary incarnations.  Or, worse, they're written by someone from the older end of the Generation X demographic, i.e., they were a kid during the 1970s and believe Roger Moore was the best actor who ever lived.
Now that the latest Bond epic No Time to Die is being released – after a zillion Covid-19-inspired delays, which had me worried that by the time it finally was released poor Daniel Craig would be turning up at the Royal Premiere with a Zimmer frame, hearing aid and dentures – there's been another rash of these hopelessly ill-informed articles, in the likes of the Independent and Den of Geek.
So, to sort out this confusion, misinformation and stupidity once and for all, here is my – and hence the correct – ranking of all the James Bond films from best to worst.  Don't even think about arguing with me.
© Eon Productions
24: Die Another Day (2002)
Winning the unenviable title of Worst Bond Film Ever is Pierce Brosnan's final outing as 007.  Because it was released in the 40th anniversary year of the franchise, the makers of Die Another Day packed it with homages to the previous 19 films, such as bikini-ed heroine Halle Berry rising out of the sea like Ursula Andress in Dr No (1962) or villain Toby Stephens swooping into central London with a Union Jack-emblazoned parachute à la Roger Moore in The Spy Who Loved Me (1977).  But these homages, as well as seeming smug, highlight how inferior Die is in comparison.  And with the film's stupid plot contrivances (an invisible car), its derivativeness (what, another killer satellite?), its Carry On-level, innuendo-ridden dialogue and Madonna's horrible theme song, we're talking greatly inferior.  What I hate most about it, though, is its use of Computer-Generated Imagery during the action sequences, an insult to the stuntmen in the old Bond films like Vic Armstrong, Terry Richards, Eddie Powell and Alf Joint, who did those stunts for real and made them so viscerally exciting.
23: Octopussy (1983)
I remember seriously not liking Octopussy when I saw it because it seemed desperate to cash in on the recent success of Raiders of the Lost Ark (1981) and deposited Roger Moore in a version of India populated with palaces, turbaned swordsmen, fakirs and snake-charmers, which had only ever existed in the imaginations of Hollywood scriptwriters and looked ridiculously corny by 1983.  Having worked in India several times since then, I suspect I would hate it even more now.  The film's one saving grace is the sub-plot taking place in its other main setting, Germany, which has Steven Berkoff as a deranged Soviet general wanting to knock NATO for six by engineering an 'accident' with a nuclear warhead.  Opposing, and in part thwarting, Berkoff's insane plan is General Gogol (Walter Gotell), who appeared in half-a-dozen Bond films as 007's respectful adversary and occasional ally in the KGB.  Indeed, I'd say Octopussy marks Gogol's finest hour.
22: Moonraker (1979)
Moonraker also attempted to cash in on a recent hit movie, in this case Star Wars (1977).  Thus, it has Roger Moore going into outer space in search of a stolen space shuttle.  It piles silliness upon silliness: not just the far-fetched science-fictional plot, but also sequences with gondolas turning into speedboats, speedboats turning into hovercraft, speedboats turning into hang gliders, steel-toothed villain Jaws (Richard Kiel) crashing through the top of a circus tent, Jaws finding a girlfriend, and so on.  Michael Lonsdale as the big villain Hugo Drax gives Moonraker some dignity it really doesn't deserve.  Brace yourself for the inevitable "He's attempting re-entry!" joke at the end.
© Eon Productions
21: The Man with the Golden Gun (1974)
Another entry in the series where the only thing going for it is the villain, the impeccable Christopher Lee as the super-hitman Francisco Scaramanga.  Elsewhere, Lulu warbles the cheesy, innuendo-slathered theme song ("He's got a powerful weapon / He charges a million a shot!"), Britt Ekland is barely contained by her bikini, and redneck comedy-relief American policeman Sheriff Pepper (Clifton James), who was so annoying in the previous film Live and Let Die, makes an unwelcome reappearance even though the film's set in East Asia.  Pepper just happens to be holidaying in Thailand with his wife when he bumps into Bond again.  (He refuses to have his picture taken with a local elephant, telling Mrs Pepper: "We're Demy-crats, Maybelle!"  Surely not.)
20: Live and Let Die (1973)
And that brings me to Live and Let Die, in which Roger Moore makes his debut as Bond.  From all accounts Moore was a lovely bloke and he kept the franchise massively popular during the 1970s and 1980s, but his lightweight acting style meant the character was far removed from the one imagined by Ian Fleming in the original novels.  Even by 1973's standards, Live and Let Die's plot about a villainous organisation of black drug-smugglers, headed by Yaphet Kotto's Mr Big, dallies worryingly with racism, although Moore's presence actually defuses some of that.  His portrayal of Bond as a posh, silly-assed Englishman gives the bad guys some gravitas in comparison.  I suspect modern audiences might feel more uncomfortable with Bond's pursuit / stalking of love interest Jane Seymour – Seymour was only 22 years at the time while Moore, already in his mid-forties, was old enough to be her dad.  The film's spectacular speedboat chase anchors the film in most people's memories, though it's spoilt somewhat by the involvement of the aforementioned Sheriff Pepper.  The theme song by Paul McCartney's Wings is, of course, great.
© Eon Productions
19: A View to a Kill (1985)
A View to a Kill, Roger Moore's final film as Bond, is often ranked bottom in lists like this, but it at least has something most 1980s Bond movies lack – memorable villains, i.e., Christopher Walken's Max Zorin and Grace Jones's Mayday.  Also, Moore gets to form an agreeable double act, for a while, with Patrick Macnee and I like how General Gogol pops up at the end to give 'Comrade Bond' the Order of Lenin.  Still, the film contains much duff-ness.  Duran Duran do the theme song and one unkind critic once described Simon Le Bon's vocal performance as 'bellowing like a wounded elk.'
18: Quantum of Solace (2007)
Daniel Craig's second appearance as James Bond, in which he comes up against a sinister, secret organisation called Quantum, was savaged by the critics.  When I watched the film, I remember thinking it didn't seem as bad as everyone made out.  That said, I can hardly remember anything about it now.
17: The World is Not Enough (1999)
A frustrating film, The World is Not Enough has much going for it, including Sophie Marceau and Robert Carlyle as the baddies, Robbie Coltrane returning as ex-KGB man / lovable rogue Valentin Zukovsky, and a plot that anticipates Skyfall (2012) wherein Judie Dench's M is threatened by a villain whose relationship with her is more complex than one of simple professional enmity.  And like Skyfall, it has scenes set in Scotland, the introduction of a new Q, and an explosion that rocks MI6's London headquarters beside Vauxhall Bridge in London.  Plus, the theme song by Garbage is the best one in yonks.  But the quality stuff is cancelled out by some rubbish bits, including Denise Richards as Bond girl Christmas Jones – so-named, apparently, to allow Pierce Brosnan to crack a joke about 'coming once a year'.  Particularly cringe-inducing is John Cleese's debut as the replacement for Desmond Llewelyn's Q, here making his 17th and final appearance in the franchise.  Not only does Cleese clown around to no comic effect whatever, but the scene where he's introduced is also the one where Llewelyn bids farewell and Cleese's slapstick robs the scene of its poignancy.
16: Diamonds are Forever (1971)
Diamonds are Forever features a beyond-caring Sean Connery, enticed back into 007's shoes by a 1.25-million-pound paycheque after George Lazenby jumped ship, in a lazy film where the plot meanders nonsensically from one action set-piece to another and the visuals are packed with easy-on-the-eye spectacle and lavishness.  At least it's pretty funny.  It depends on your tolerance level for sledgehammering 1970s political incorrectness whether or not you enjoy the banter between gay assassins Mr Kidd and Mr Wint.  (Sticking Connery into a coffin and feeding him into a crematorium furnace: "Heart-warming, Mr Kidd."  "A glowing tribute, Mr Wint.")  However, uber-Bond-villain Ernst Stavro Blofeld is very amusingly played by Charles Gray.  While he's wreaking havoc with a deadly laser beam mounted on a satellite, he sneers: "The satellite is now over Kansas.   Well, if we destroy Kansas, the world may not hear about it for years."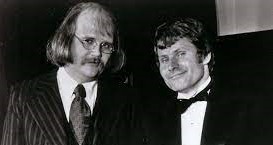 © Eon Productions
15: For Your Eyes Only (1987)
For Your Eyes Only makes a noble attempt to bring the franchise down to earth again following the excesses of Moonraker.  Mostly, it works nicely as an action / adventure piece, although the villain Krystatos, played by the normally reliable Julian Glover, is a bit drab. More effective is the excellent Michael Gothard as the taciturn Belgian assassin Locque.  Alas, it runs out of puff towards the end.  After some exciting mountaineering stunts while Roger Moore and the good guys ascend to a mountaintop monastery / villains' lair, the climactic battle is a damp squib.  Also, there's an excruciating 'comic' final scene where Margaret Thatcher (played by impressionist Janet Brown) phones Bond to congratulate him on a job well done and ends up speaking instead to a randy parrot: "Give us a kiss!"  "Oh, Mr Bond…"
14: Goldeneye (1995)
Pierce Brosnan's debut as Bond, after the franchise had endured a six-year hiatus, won a lot of praise.  I find it slightly unsatisfying, though.  It tries a bit too hard.  There's a bit too much packed into it, a few too many twists and turns, as it tries to prove to audiences that a Bond movie can still be relevant and with-it in the 1990s.  Also, its good intentions are undone by the occasional piece of Roger Moore-style silliness and a cobwebbed plot-MacGuffin – yes, it's another killer satellite threatening the world, or in this case, the City of London.  Sean Bean and Famke Janssen are cool as the main villains, though it's a pity that Alan Cumming and Joe Don Baker are both allowed to act with their brakes off.
13: Spectre (2015)
Another Daniel Craig Bond that got a critical kicking, I think Spectre deserves a little more love.  The film brings back Ernst Stavro Blofeld, played here by Christoph Waltz as a Euro-trash scumbag who commits crimes against fashion by not wearing socks under his loafers.  Also back is Blofeld's insidious criminal organisation SPECTRE.  (After decades of legal wrangling, the Bond producers had by 2015 won the right to use Blofeld and SPECTRE again in the franchise.)  However, Spectre's Bond / Blofeld backstory earned hoots of derision.  Blofeld, it transpires, is the son of Hannes Oberhauser, the man who looked after the young James Bond after his parents were killed in a climbing accident.  Oberhauser much preferred little James to little Ernst, leaving his biological son with some serious personality issues.  Yes, it sounds contrived, but I didn't have a big problem with this, since the adoptive father-figure of Hannes Oberhauser existed in the original, literary Bond universe created by Ian Fleming and Bond referred to him in the short story Octopussy, published in 1966.  The opening sequence in Mexico City, filmed by director Sam Mendes in one long, supposedly continuous take, is brilliant, but the film's attempts to incorporate / retcon the previous Daniel Craig Bond films into its plot are clunky.  For example, we learn that the Quantum organisation in Quantum of Solace is only a subsidiary of SPECTRE.  Another negative is the comatose theme song performed by Sam Smith.
© Eon Productions
And my next blog-post will rank the remaining Bond movies from number twelve to number one.