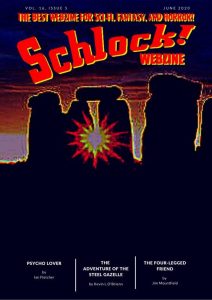 © Schlock! Webzine
Here's a plug for another short story by Jim Mountfield, the pseudonym I use for works of horror, supernatural and generally dark fiction, which has been published this month.
The story's called The Four-Legged Friend and it's featured in Volume 16, Issue 5 of Schlock! Webzine.  It's set in modern-day Bangkok – well, Bangkok until a couple of months ago, when tourists were still able to go there – and is inspired by a visit I once made to an antiquated surgical museum at one of the city's hospitals.  My horror writer's antenna started buzzing (and I started thinking, "Hey, I could use this idea in a story!") when I noticed how little shrines consisting of flowers, pictures, toys and other knickknacks had been set up around some of the exhibits.  These were in honour of the people who'd donated their bodies, or parts of their bodies, that'd become those exhibits.
Surgical museums in the Western world are usually clinical, dispassionate affairs.  With its shrines, however, this one in Bangkok seemed to remind its visitors of two things: that the exhibits had human origins and that there was a spiritual aspect to them too.  What you were looking at in those glass cases once belonged to people who'd had souls.  Indeed, depending on your belief system, you might argue that those souls were still present…
As well as being inspired by something I saw in a Thai museum, The Four-Legged Friend is influenced by one of the greatest of all ghost story writers, M.R. James, and in particular by the paranoia that James was able to evoke in stories like Casting the Runes (1911) and Oh, Whistle and I'll Come to You, My Lad (1904).  James skilfully exploited the basic human fear of being followed.  His characters frequently aren't just haunted – they're being hunted.    I should say too that after I finished the story and read it through, I was surprised at how much it reminded me of Daphne du Maurier's masterly, Venice-set novella Don't Look Now (1971), with the protagonists being tourists, the presence of a child-like apparition and the references to water – some of the action takes place on board Bangkok's river ferries.
A quick word of warning, however, to manage expectations: my story may not be quite as good as M.R. James or Daphne du Maurier!
For the rest of June 2020, The Four-Legged Friend can be accessed here.  The main page of Volume 16, Issue 5 of Schlock! Webzine, in which the story appears, is available here.