© Navin Weeraratne
In the old days, 'overkill' was a necessary, even a desirable component of a zombie-holocaust story.  There had to be a large and increasing amount of killing.  This would ensure there was a large and increasing number of dead people, who would then come back to life as zombies.  In turn, this would  ensure there was a large and increasing number of zombies posing a large and increasing threat to the small and decreasing number of human beings who were battling to survive.
Unfortunately, as far as zombies are concerned, 'overkill' has now taken on a different meaning.  These days there's just too many movies, TV shows, books, graphic novels, comics and computer games featuring the bloody things.
They're everywhere.  In the movie world alone, they're in mega-budgeted Hollywood blockbusters, like 2013's World War Z, and in low-budget rubbish, like last year's ultra-opportunistic Corona Zombies.  They're in Scottish movies, like 2008's The Dead Outside.  They're in high-school movies, like 2012's Detention of the Dead.  They're in musicals, like 2018's Z-O-M-B-I-E-S.  They're in Christmas movies, like 2012's Christmas with the Dead.  Why, they're even in Scottish / high-school / musical / Christmas movies like 2017's Anna and the Apocalypse.
Today, in other words, zombies are ubiquitous.  And they're predictable.  And dare I say it, they're boring.
But having got all that off my chest, I have to admit I enjoyed Navin Weeraratne's 2018 novel Zeelam, which is about modern-day Sri Lanka suffering its own zombie apocalypse.  The expected story-elements are all present and correct – bites, infections, 'conjunctivitis-red eyes', mayhem and lots of blood, gore and grue – but the book is helped by having a strong dose of social commentary too.
And social commentary is something I believe all good zombie stories should have.  For example, the first three zombie movies made by George A. Romero, the visionary filmmaker who created the template for zombie holocausts, commented on the civil rights movement and Vietnam War (in 1968's Night of the Living Dead), mindless consumerism (in 1978's Dawn of the Dead) and the stupidity of the military (in 1986's Day of the Dead).  Danny Boyle's 28 Days Later (2002) reflected a modern Britain where anger was an increasingly common social phenomenon and terms like 'road rage' and 'air rage' had entered the popular vocabulary, while its sequel, Juan Carlos Fresnadillo's 28 Weeks Later (2007), was an allegory about the post-war occupation of Iraq.  And Edgar Wright's Shaun of the Dead (2004) satirised a twenty-something slacker generation who couldn't tell if someone was a zombie or just pissed, hungover or stoned.  Carrying on the tradition, Zeelam takes multiple swipes at the institutional and societal shortcomings of modern Sri Lanka.  But more about that in a minute.
Zeelam has two main characters.  One is Ruven Daniels, a member of a military response team whom we first see being sent to deal with an incident at Colombo's posh Hilton Hotel. There, zombies – 'zees' as they've become known in Sri Lankan parlance – have suddenly appeared during a children's birthday party attended by rich 'Colombo 7' housewives and their pampered offspring.  The ensuing carnage takes place under a PA system blasting out Bryan Adams' The Summer of 69.  ("I love this song!" enthuses one of Ruven's comrades.)  The other is Dinuka Fernando, a woman working for an NGO trying to prevent the zombie infections, which are caused by a virus being spread by mosquitoes.  Dinuka is a kick-ass character who goes about her duties armed with a Japanese katana.  Unsurprisingly, that katana is deployed with increasing frequency as the novel approaches its climax.
The zombies in Zeelam aren't the dead-come-back-to-life ones portrayed in Romero's films.  They're more in the style of 28 Days and 28 Weeks Later, people infected by a virus that sends them into a terrifying, murderous, red-eyed frenzy.  Weeraratne has his characters hypothesise that the virus was present in Sri Lanka for decades already in a less aggressive form.  Originally, it manifested itself in the country's high levels of domestic violence, which didn't receive much coverage because attentions were focused on the Sri Lankan Civil War from 1983 to 2009 – which itself became an outlet for the violence caused by the virus.  But now it's mutated into something more devastating and its effects can no longer be concealed behind the walls of peoples' homes or camouflaged by the mayhem of the battlefield.
Thus, though Weeraratne's zombie scenario is imaginary, the context that gave rise to it isn't.  Indeed, the text is peppered with superscript numbers that refer the reader to a lengthy appendix of endnotes.  Here, Weeraratne provides links to real-life studies, reports and news items about Sri Lanka and its relationship with violence, showing that he's grounded his ideas in depressing reality.
Zeelam is also interesting because the virus is shown to create different types of infections.  These range from fully fledged, 'berserker' zombies to asymptomatic people who merely carry the virus around in them.  Most intriguingly, there's a category called 'sleepers', who only show their zombie tendencies at night and are perfectly human-like during the day.  Indeed, among the book's supporting cast is a character, a government inspector called Siripala Fonesaka, who spends his days desperately trying to cover up the monstrous things he's done at night.
This diversity makes the threat posed by the zombies more hydra-like and difficult to deal with.  Also, it helps Zeelam to dodge the criticism I made at the start of this entry, that zombie stories have become too dull and predictable.  However, I have to say the pedant in me wished Weeraratne had explained these variations in the virus's effects with the same scientific rigour with which he described the virus's origins.  How, for example, does sunlight temporarily neutralise the virus in the sleepers?
As I've said, just as George A. Romero's zombie movies highlighted the shortcomings of American society, and just as Danny Boyle painted an unflattering portrait of modern-day Britain in 28 Days Later, so Weeraratne spends much of Zeelam taking potshots at the frustrations and annoyances of 21st century Sri Lanka.  These include venal and corrupt politicians – the outbreak at the Hilton Hotel in the novel's opening pages is the consequence of a seedy MP booking in there with a prostitute – and bungling, incalcitrant bureaucrats, and elements of the armed forces who in their minds have never stopped fighting the Civil War and pose as a big a threat to the public as the zombies do.
Then there's the country's class system.  Weeraratne doesn't show the people at the top of the pile in a particularly sympathetic light.  When Ruven's men cordon off a neighbourhood where an outbreak is in progress, one privileged young asshole rolls up in a fancy car and demands to be allowed to drive through because his father is 'a judge'.  In a corresponding endnote, Weeraratne describes how he once heard someone say the exact same thing when people objected to him parking on a double-yellow line in Havelock Town.
Later, an alumnus of one of Colombo's prestigious private schools, and thus an entitled member of the city's 'old-school-tie' network, meets a humiliating end at the blade of Dinuka's katana.  Described by Weeraratne with obvious relish, his death involves, shall we say, the relaxation of sphincter muscles.  This amused me because in the real world the school in question is at the top of my street.
114 pages long, Zeelam is a slim volume, and its impact is slightly lessened by a number of typos.  You sometimes wonder what was distracting the proof-reader from their duties — were they struggling against an encroaching zombie infection at the time?  But as an enjoyably gory piece of entertainment that doesn't pull its satirical punches, it's still pretty tasty.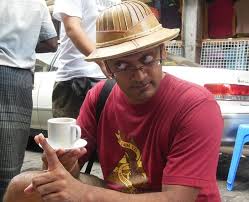 From facebook.com