© AVCO Embassy Pictures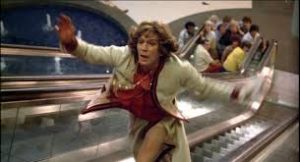 © Carolco Pictures / EMC Film Corporation
One of the least pleasant consequences of the Covid-19 pandemic has been the argument, advanced mainly by right-wingers, that it'd be better for society to steam on without lockdown and its attendant economic damage because most people killed by the virus are elderly and will die soon anyway.  Old folks, in other words, are expendable.  I'm thinking of failed Australian ex-prime minister Tony Abbot, who opined that families should be allowed "to make elderly relatives as comfortable as possible while nature takes its course"; or Daily Telegraph columnist Jeremy Warner, who reflected that "Covid-19 might even provide mildly beneficial in the long run by disproportionately culling elderly dependents".
However, the notion that elderly people are merely past-their-sell-by-date sacks of meat, helplessly sitting around with nothing to do but wait for death, in viral or other forms, to arrive at their doors, was surely refuted by the example of the great Canadian actor Christopher Plummer.
Plummer, who sadly bowed out last week at the age of 91, had been acting since the 1950s and had been on my movie radar since I was a kid in the 1970s.  But it wasn't until well after he'd qualified for his free bus pass that he got the roles that earned him official recognition as acting royalty.  He received his first Oscar nomination when he was 80 years old, for a supporting role in Michael Hoffman's 2009 film The Last Station.  Though he didn't win that award, two years later at the Oscars he netted Best Supporting Actor for his performance in Mike Mills' Beginners (2010).  And a half-dozen years afterwards, to prove he wasn't yet over the hill, Plummer got another Oscar nomination for Best Supporting Actor in Ridley Scott's All the Money in the World (2017).
Indeed, just last year, I was delighted to see him play a tough but kind-hearted patriarch in Rian Johnson's entertaining murder mystery Knives Out (2019).  In this, Plummer effortlessly held his own not only among a starry ensemble cast that included Jamie Lee Curtis, Michael Shannon, Don Johnson and Chris Evans, but also against Daniel Craig's scenery-shredding Southern accent.
So the acclaim heaped on the octogenarian Plummer, and his seeming ubiquity on the screen in the last decade, negate the idea that human beings are fit only for the scrapheap when they reach their allotted three-score-and-ten.  With hindsight, at the age of 70, Plummer's best years were arguably still ahead of him.
That said, it's for two films he made as a younger man, in the late 1970s, that I'll particularly remember him.
© Carolco Pictures / EMC Film Corporation
Daryl Duke's The Silent Partner (1978) is an excellent thriller, though one that's strangely underrated.  I suspect mainstream critics neglected it because they felt uncomfortable with a couple of scenes of nasty violence in the film, which were included to show what a psychotic, misogynistic scumbag its villain is.  That villain is the criminal Harry Reikle, played by Plummer.  Reikle becomes a formidable opponent for – and, as the film progresses, the title's sinister 'silent partner' to – the film's hero, Miles Cullen, played by Elliot Gould, a mild-mannered teller working in the bank that Reikle has decided to rob.
Despite his violent disposition, Reikle is a criminal with an imagination.  He carries out one crime dressed in drag and another disguised as a shopping-mall Santa Claus.  However, he meets his match in Cullen, who uses Reikle's botched robbing of his bank as an opportunity to fill his own pockets with supposedly 'stolen' money.  Reikle is unsurprisingly displeased at this and a game of cat-and-mouse ensues between them.
Besides being a bit nasty, The Silent Partner is suspenseful, twisty, ingenious and, thanks to its droll observations of the inanities, pettiness and officiousness its hero has to endure while working in the bank, very amusing.  You fully understand why the frustrated, put-upon Cullen wants to cheat his workplace out of a fortune and escape from it forever.  Plummer and Gould give the film its yin and yang, its enjoyable balance of tension and humour, shocks and laughs.  (On the laughter side, it's also helped by the presence in a supporting role of a young John Candy, sporting an alarming 1970s side-parted hairdo.)
My other favourite Christopher Plummer performance came the following year when he donned the deerstalker for Bob Clark's 1979 Sherlock Holmes epic Murder by Decree.  (Plummer had already played Holmes in a 1977 TV film called Silver Blaze).  Inspiring the film, which has Holmes investigating the real-life murder spree of Jack the Ripper, is Stephen Knight's book Jack the Ripper: The Final Solution (1976), which postulated that the killings were the result of a conspiracy involving the Freemasons and the Royal Family.  The same theory informs Alan Moore's celebrated graphic novel From Hell (1989-98) and its subsequent 2001 movie adaptation.
Murder by Decree is a classy movie with handsome production values and a big-name cast and Plummer essays a correspondingly classy and cultivated Sherlock Holmes.  Also deserving praise is James Mason as Doctor Watson.  Despite the disparity in their ages – Plummer was around 50 at the time, Mason around 70 – the pair make a delightful double-act.  They're clearly bound by great affection and loyalty for one another, even if there are occasional moments of irritation and sulkiness, and they go about their business like a long-term and mostly loving married couple.  Incidentally, playing Inspector Lestrade in Murder by Decree is actor Frank Finlay, who had already played the same role in another movie where Sherlock Holmes encounters Jack the Ripper, 1965's A Study in Terror.
© Dimension Films / New Art & Logic / Miramax Films
Plummer also appeared in a number of bad movies, of course, but like all great actors, he could feature in a godawful piece of guff and make it entertaining nonetheless.  He was, for example, very credible as the vampire hunter Van Helsing in Patrick Lussier's Dracula 2000 (2000).  The fact that this particular movie has Gerard Butler playing Dracula tells you all you need to know about its quality.
Meanwhile, if you look between The Silent Partner and Murder by Decree in Plummer's filmography, you'll discover that he was in the less impressive Starcrash (1978).  This was an Italian Star Wars (1977) rip-off, of which the kindest thing that can be said is that the gap between what director-writer Luigi Cozzi imagined would be happening on the screen when he wrote the script, and what he could actually afford to put on the screen with his budget, is painfully obvious.  In Starcrash, Plummer plays the Emperor of the Universe and at one point he sagely tells his son (David Hasselhoff): "You know, my son, I wouldn't be Emperor of the Universe if I didn't have some powers at my disposal."  Plummer later justified his participation in the film by saying it gave him a chance to be in Rome: "Give me Rome any day.  I'll do porno in Rome, as long as I can get to Rome."
13 years after Starcrash, Plummer had a rather better science-fictional experience playing the Klingon warlord Chang in the 1991 Star Trek movie Star Trek VI: The Undiscovered Country.  Plummer gives a deliciously no-holds-barred performance as Chang, who's so badass that the eyepatch he wears isn't tied around his head on a piece of string or elastic but is rivetted into his face.  In the final scenes, Chang bellows lines from Shakespeare's Julius Caesar while he and his forces launch an attack on the Starship Enterprise: "Cry 'Havoc!'  And let slip the dog of war!"  (Earlier, the Klingons had informed Captain Kirk that "you have not experienced Shakespeare until you have read him in the original Klingon.")  I suspect the presence in the film of Plummer's long-term friend and one-time understudy William Shatner, an actor not known for his subtlety, inspired Plummer to play Chang with his brakes off.
© Paramount Pictures
Plummer's turns in Star Trek VI and The Silent Partner show his excellence as a screen villain.  Further proof of this is found in Taylor Hackford's 1995 thriller Dolores Claiborne, perhaps the most underrated of all film adaptations of books by Stephen King.  Plummer plays the vindictive Detective John Mackey, who failed to pin a murder rap on the titular heroine (Kathy Bates) after the death of her abusive, alcoholic husband (David Strathairn) in the 1970s.  Two decades later, he believes he can finally nail her when her employer (Judy Parfitt) dies amid much circumstantial evidence suggesting Dolores has killed her.
I also associated Plummer with playing famous historical figures.  These included Rommel in Anatole Litvak's Night of the Generals (1968), the Duke of Wellington in Sergei Bondarchuk's  Waterloo (1970) – the epic Dino De Laurentiis production that proved such a financial flop that it helped scupper Stanley Kubrick's plans to make a film about the life of Napoleon – and Rudyard Kipling in John Houston's The Man Who Would Be King (1975), a film that poignantly lost another of its stars, Sean Connery, just a few months ago.
He had a profitable relationship too with director Terry Gilliam.  In 1995 he played Brad Pitt's dad in Gilliam's masterful 12 Monkeys, while 14 years later he played the title character in The Imaginarium of Doctor Parnassus.  Typical of Gilliam's 21st century film-work, Parnassus is all over the place and sadly indicates that the director has passed his prime – though it didn't help that the movie's star Heath Ledger died during filming and his character also had to be played, through a series of unconvincing phantasmagorical transformations, by Johnny Depp, Colin Farrell and Jude Law.  But the scenes with Plummer and his endearingly ramshackle travelling theatre, the 'imaginarium' of the title, are good and recall the director's glory days.
One other movie featuring Plummer that I admire is Terrence Malick's gorgeous and beguiling 2005 epic The New World.  He plays Captain Newport, leader of an expedition to establish an English colony in Virginia in 1607.  Newport's party includes Captain John Smith (Colin Farrell), destined to fall in love with Pocahontas (Q'orianka Kilcher), daughter of the chief of the local Native Americans.  However, Plummer was not enamoured with Malick's unstructured and improvisational approach to filmmaking.  He was particularly galled when he saw the final cut of The New World and discovered that an important, emotional speech his character had given was now background noise in a scene with a different dramatic focus: "I could hear myself saying it, this long, wonderful, moving speech that I thought I was so fantastic in… way, miles in the distance while something else is going on in the foreground…"  Plummer subsequently voiced his displeasure to Malick in a letter.  "I gave him shit.  I'll never work with him again, of course."
Plummer's willingness to speak his mind and slag off any film in his CV he didn't enjoy making or watching was, of course, demonstrated by his attitude towards his most famous role, that of Captain von Trapp in Robert Wise's saccharine The Sound of Music (1965).  Marvellously, he dubbed it 'The Sound of Mucus'.  As well as just not liking the film, he found acting in it hard work: "To do a lousy part like von Trapp, you have to use every trick you know to fill the empty carcass of the role."
No wonder that in a Facebook tribute to Christopher Plummer the other day, Terry Gilliam finished by writing: "I already miss him terribly and I hope to God they don't play Edelweiss at his funeral.  It would kill him."
© First Foot Films / Sarah Green Film / New Line Cinema