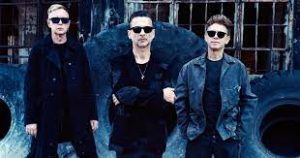 From Facebook / © Depeche Mode
Well, bugger.  Just as I'm starting to get into Depeche Mode again, one of the sods goes and dies on us.
I'm referring to Andy Fletcher, founding member of Depeche Mode, bass, keyboard and synth-player, and from all accounts the bloke who dealt with the business, financial and legal matters that his two bandmates (Dave Gahan and Martin Gore) found too boring to deal with.  Fletcher passed away on May 26th.  Considering the industrial amounts of drugs and booze that Gahan and Gore have put away over the years, he surely wasn't the band-member most people would have bet money on to pop their clogs first.
Not that Fletcher escaped all the excesses of Depeche Mode, which were at their most destructive in the early-to-mid-1990s, around the time of their notorious 1993 Devotional and 1994 Exotic tours.  While Gahan suffered cracked ribs and internal haemorrhaging from a botched stage-dive, became convinced he was a vampire and tried to bite a music journalist, had a drug-induced heart attack, attempted suicide and spent a few minutes technically dead after a 1996 heroin / cocaine speedball overdose, and while Gore experienced seizures that were the culmination of long-term alcohol and substance abuse, and while one-time member Alan Wilder quit due to what he euphemistically described as relations in the band being 'seriously strained, increasingly frustrating and, ultimately, in certain situations, intolerable', Fletcher had to temporarily leave Depeche Mode and check into hospital suffering from severe anxiety issues.
For me, one fact sums up the kamikaze state of Depeche Mode at the time.  Their support band during the North American leg of their 1994 tour was so horrified by what they saw that they recorded their next album in conditions of strict sobriety.  The support band was none other than the druggy, leather-trousered, hard-living, psychedelia-loving, Rolling Stones-worshipping Primal Scream.  Yes, Primal Scream!  As journalist Phil Sutcliffe noted in Q magazine, "Behold, then, Depeche Mode: the band who frightened Primal Scream into temperance."
That Depeche Mode in the 1990s mutated into such out-and-out rock monsters came as a shock to me.  When they started at the beginning of the 1980s, I thought they were insufferable, synth-twiddling wimps.  Their maddeningly jaunty hit singles, like New Life and Just Can't Get Enough (both 1981), made them popular with the sort of brainless pubescents whose purchasing power had recently clogged up the pop-charts with the unspeakable likes of Duran Duran and Spandau Ballet (and had recently turned me, at the age of 17, into the musical equivalent of a grumpy old man: "Kids today!  They call this shit music?  Gah!")  And even if Depeche Mode hadn't won the adoration of those dopey New Romantic fans, and were judged purely by the standards of being an early 1980s synth-pop act, they seemed much less interesting than other acts of that type, like Soft Cell and the Human League.
It was funny, though, that Just Can't Get Enough eventually became a football anthem. One set of supporters would sing it with the words slightly amended to insult an opposing set of supporters: "You just can't get it up!  You just can't get it up!"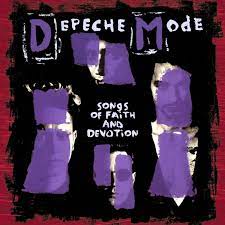 © Mute
However, in the early 1990s – by which time I was living in Japan – I noticed something odd.   People whom I liked and whose musical tastes I respected, such as a friend from New York called Mary Beth Maslowski, and another friend, a Sapporo-ite called Satomi Munakata, had started arguing with me that Depeche Mode were good.  "Impossible," I'd retort.  "They're wimps!  Haven't you heard Just Can't Get Enough or  New Life?  What piffle!"  In fact, Satomi felt so strongly about the matter that she presented me with five of their albums recorded on cassette tapes and insisted that I listen to them.  Setting my prejudices aside, I slotted the things into the tape-deck of my stereo…  And, I had to admit, some of the stuff on them was actually really decent.  This was especially true of the more recent Depeche Mode albums, like Violator (1990) and Songs of Faith and Devotion (1993).
While it's customary for bands to begin strong, full of youthful energy, imagination and enthusiasm, and then, having fired all their creative bolts during their first few albums, to become shite, the opposite had happened with Depeche Mode.  They'd begun shite but gradually become good.  Their annoyingly dinky sound of the early 1980s had gradually given way to a darker, crunchier one that had the relentlessness of industrial music but was also leavened with some melodies.  Goths, I noted, had become especially partial to the band.
After I'd decided I liked them, I bought each new Depeche Mode album that came out: Ultra (1997), Exciter (2001), Playing the Angel (2005), Sounds of the Universe (2009), Delta Machine (2013) and Spirit (2017).  These were sometimes uneven, but all had moments of quality.  Playing the Angel, full of groovy tunes like A Pain that I'm Used to, John the Revelator, Suffer Well and The Sinner in Me, is a particular favourite of mine, though nothing quite beats the mighty Barrel of a Gun on Ultra.
That said, I hadn't listened to the band so much in recent years.  However, during the past month, alarmed at the state of my health – about as good as that of the average Depeche Mode member between 1993 and 1996 – I decided to get back into the habit of going to a gym.  And in the gym, I decided to spend most of my time running on the treadmill.  I used to be a keen jogger, but had pretty much given up because running on pavements and tarmacked roads and footpaths was subjecting my ageing knees and ankles to too much wear and tear.  Running on a treadmill, I thought, would be less damaging.  And to stop myself getting bored on the treadmill, I found myself listening to loads of Depeche Mode on my iPod.  (Yes, my iPod.  I told you I was ageing.)
I've especially listened to Depeche Mode: Remixes 81-04.  A bunch of Depeche Mode classics remixed by DJs, producers and bands like François Kervorkian, William Orbit, DJ Shadow, Goldfrapp, Underworld and the Beatmasters, where things go (electronically) 'Thud!' and 'Thump!' and 'Crash!' with machine-like regularity, are the perfect soundtrack when you're trying to get your body into the rhythm of running again.
But then, suddenly, Andy Fletcher died.  Which sucks.
© Mute
Meanwhile last month, nine days before Fletcher passed away, another maestro of electronic music, whom I'd originally considered to be a bit crap but later changed my mind about, died too.  I'm talking about Evángelos Odysséas Papathanassíou, aka Vangelis.  For many years, I'd been sceptical about Vangelis's musical talents because (a) he'd been half of the duo Jon & Vangelis (the other half being Jon Anderson), whose ultra-limp hit single I'll Find My Home cleared dance floors the length and breadth of Britain in 1982; and (b) he provided the ponderous music for the ponderous 1981 movie Chariots of Fire.  The history of the British film industry is littered with boringly worthy costume dramas that I hate, but Chariots of Fire is probably the boringly worthy costume drama that I hate most.  Also, is it just me, or does the Chariots of Fire theme not sound like the Alexander Brothers' These are my Mountains played at the wrong speed?
And yet…  Vangelis's soundtrack album for Ridley Scott's science-fiction masterpiece Blade Runner (1982) is a work of genius.  I didn't appreciate the music so much when I originally saw the film, because I was overwhelmed by its cyberpunk visuals.  But a few years later, when I bought the soundtrack album, I realised how good it was.  Aurally, it perfectly captures Blade Runner's aesthetic of toweringly futuristic skyscrapers, street-level mazes of Asian-style food counters and market stalls, high-tech corporations, low-fi 1940s-esque film noir sleuthing, neon, rain, grime and smoke.
Tracks like Tales of the Future, which featured the singer Demis Roussos, Vangelis's fellow Greek and former colleague in the late 1960s / early 1970s prog-rock band Aphrodite's Child, were spine-tingling.  (At the time poor Demis was something of a joke in Britain, thanks to his high-pitched warbling being featured in Mike Leigh's hilarious satire on social class and social mobility, 1977's Abigail's Party).  I now regard the urgent end-credits theme as one of the most rousing pieces of film-music ever.  And then, when it segues into the late, great Rutger Hauer doing his 'Tears in Rain' monologue…  Well, what can you say?
Vangelis certainly wouldn't have been my first choice to create the musical accompaniment to Blade Runner.  But as things turned out, I'm glad he got the gig.
© East West / Atlantic