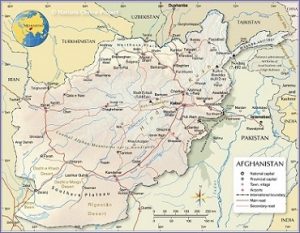 I've watched the copious, vivid and harrowing news footage of the chaos in Kabul while the USA and its allies attempt to end their occupation of Afghanistan and withdraw. I've also listened to the reactions of Western politicians and political pundits to that chaos.  Not for the first time, I find myself thinking of the lines from the poem To a Louse by Robert Burns: "O wad some pow'r the giftie gie us / To see oursels as ithers see us! / It wad frae mony a blunder free us / An' foolish notion…"
In standard English: "Oh would some power the gift give us / To see ourselves as others see us / It would from many a blunder free us / And foolish notion…"  I suspect that if governments could see their policies as others see them and, indeed, if all human beings could see themselves as others see them, the world would be a far better place.
Before I continue, let me make a few things clear.  I don't think the USA and its allies were sensible or indeed, had much right, to go into Afghanistan in the first place.  This was especially since the Taliban were willing to hand over Osamu Bin Laden, whose masterminding of 9 / 11 had sparked the war and invasion in late 2001.  And yes, I accept that the Taliban were and no doubt still are a bunch of bad bastards.  But if George W. Bush, Tony Blair and co. were really serious about usurping them, and replacing them with a functioning democracy, and transforming a country as notoriously hostile to outside influence as Afghanistan into a modern nation, they should have invested huge amounts of capital, manpower and infrastructure once they'd taken over.
But of course, any chance of that happening evaporated as soon as Bush, Blair, etc., drunk on their own military firepower, steamed into Iraq.  While the Iraqi debacle unfolded, diverting attention and devouring resources, Afghanistan was neglected and left to fester.  Anyway, as they say, that's all academic now.
I also see the handling of the withdrawal as a fiasco. The fiasco includes the mind-melting ineptitude of the current incumbent in Blair's old job, Boris Johnson, who thought the falling of the city of Kandahar into Taliban hands would be a good moment to pop off to Somerset for a holiday; and of his ultra-hapless Foreign Minister, Dominic Raab, who apparently felt consolidating his tan at a five-star beach hotel in Crete was more important than getting on the phone and attempting to help evacuate Afghan interpreters who'd been working with British forces.
And the predicament that many Afghans find themselves in, those who've worked or had dealings with the Western powers and their troops, institutions and agencies during the occupation since 2001, is a tragedy.  The West didn't so much as build a nation in Afghanistan as erect a house of cards, and clearly little thought was given to the fate of the West's local employees and clients should that house of cards collapse and control revert to a vengeful Taliban.
The fact that the situation was a house of cards must have been blindingly obvious to anyone bothering to take a smidgeon of an interest in Afghanistan over the last two decades.  I've known a few people who've worked there or had to visit it, and their descriptions – of having to undergo lengthy safety / security / survival courses before being allowed anywhere near the place, of being ensconced almost 24/7 in fortified bunkers cheek-by-jowl with battalions of Gurkha soldiers, of being cocooned inside the armour of military vehicles and helicopters when they did venture outside – made it sound like a surreal experience, part Fort Knox, part Siege of Ceuta, part Alice in Wonderland.  How could any society where outsiders felt so unsafe that they had to behave like this be considered sustainable, let alone normal?
Not only has there been little preparation made for evacuating the West's Afghan colleagues and clients in the event of the unmentionable – inevitable? – happening and their suddenly becoming targets.  There's been little willpower too, which is unsurprising given the reluctance of Western politicians, as exemplified by British Home Secretary Priti Patel, to countenance the entry of large numbers of refugees into their countries.
Incidentally, I wasn't surprised at the excuse I heard for why certain groups of Afghans shouldn't be helped to flee the country and escape to Britain. This was because, it transpired, they hadn't actually been employed by the British Embassy, British NGOs, British companies, whatever. No, they'd only been employed by outsourced contractors that these British agencies had drawn upon.  They themselves weren't really British employees.  (At least now, in the face of public revulsion, this abhorrent attitude seems to be changing.)
Subcontracting is the great 'get-out-of-jail' card employed by Western outfits working in the developing world.  On one hand they can loudly proclaim their Western, democratic values.  On the other hand, they use the subcontracting argument to avoid paying many local people working for them anything like a decent, livable wage, avoid giving them proper workers' rights, and so on.
Many Western politicians and commentators have lamented about these people being thrown to the wolves, and rightly so.  But there's also a massive hole in the narratives they've been spinning.  They make it sound like the withdrawal has been a betrayal of everyone in Afghanistan and now the entire Afghan population is wailing piteously as the Taliban prepare to take over again.
Really?  I have no doubt that the occupation benefited a small section of the population, in the cities.  However, it's enlightening to read this article from 2020 on foreignpolicy.com that takes an all-too-credible look at rural Afghanistan, at the region of Nangahar to be precise, where Trump had the devastating MOAB bomb deployed in 2017.  The journalist interviews a young local man who's just decided to throw his lot in with the Taliban.  "Omari's family is part of the 90 percent of Afghanistan that lives below the national poverty line of $2 per day, according to the Afghan Ministry of Economy. Three-quarters of Afghans live in rural areas, where even basic services are in short supply; the Ministry of Education this month revealed that 7,000 schools across the country don't actually have buildings…" Omari views the existing government as corrupt and expresses what seems to be a widespread belief that having the Taliban in charge at least can't make things any worse than they are now.
One analyst quoted in the article describes Afghans' reasons for enlisting in the Taliban thus: "In large part, recruitment seems to stem from family and tight community connections… Individual motivations are extremely diverse and range from revenge against the government or foreign occupiers for killed relatives or comrades to limited alternative opportunities in some regions to recruiting pressure from the organization."
"…revenge… for killed relatives or comrades…"  Many Western politicians and pundits seem neurotic in their desire to avoid any possibility that their forces in Afghanistan were anything other than the 'good guys'.  No doubt many servicemen and servicewomen from the US, UK and elsewhere believed they were in Afghanistan to make things better for the people living there.  Yet there's plentiful evidence to suggest ordinary Afghans had reasons for not viewing their supposed Western liberators as angels.  There are specific reasons – see last year's Brereton Report in Australia, which suggests some 39 Afghan civilians were murdered by Australian special forces. There are general ones too – for instance, a US study indicated that approximately 700 Afghan civilians were killed in airstrikes by the US and its allies in 2019 alone.
In addition, the West was determined (though it utterly failed) to wipe out Afghanistan's opium / heroin trade, which in 2018 accounted for a third of the country's GDP.  Opium poppies were the country's biggest cash crop by far.  This can't have endeared Western forces to Afghan farmers, especially as the countries sending those forces did little to rethink their own drug policies, which inadvertently fueled the demand for and drove the profits of the trade.
From unsplash.com / © Tim Cooper
"You can't," some Western strategists might say glibly, "make an omelette without breaking eggs."  Or as the recently-departed, presumably now-roasting-in-hell Donald Rumsfeld once put it, "Stuff happens."  But the carnage and the attendant shoulder-shrugging did nothing to win those all-important Afghan hearts and minds.
At the moment there's an awful lot of breast-beating going on about the turn of events in Afghanistan. But I suspect those Western breast-beaters would be in for a shock if they saw themselves as many ordinary Afghans see them just now.