© Tantallon / United Artists
A warning – the following entry contains a lot of spoilers.
1973's The Offence was the result of its star, Sean Connery, believing he could make a deal with the devil and get away with it.  The devil in question was Hollywood, always hungry for money-spinning escapist entertainment.  The deal was that he would, reluctantly, reprise his role as James Bond in Diamonds are Forever (1971).  In return, the distributor, United Artists, would support two film projects of his own choosing, budgeted at less than two million dollars.
What could go wrong?  Connery starring in the lazy, by-the-numbers Bondage that was Diamonds are Forever and being rewarded with two modestly budgeted but hopefully classy movies in which he could demonstrate his acting chops?  Well, the problem was that The Offence, the first film to emerge from of the deal, was a commercial flop.  Filmgoers evidently preferred to pay money to see Connery as Bond, even if by 1971 he was visibly middle-aged, wearing a toupee and merely going through the motions, rather than see him give the disturbing performance that he gave in The Offence. 
Connery's second project was to have been an adaptation of Shakespeare's Macbeth, which he planned to direct himself.  This became problematic when the Roman Polanski-directed Macbeth was released in 1971.  With The Offence a failure and Connery's Macbeth looking unviable because Polanski had got to the material first, United Artists pulled the plug on the deal.  Connery's second film didn't see the light of day and, indeed, he never got to direct a film.  (His sole directing credit was the 1967 TV documentary The Bowler and the Bunnet.)
But at least we got The Offence, which features Connery in perhaps his most unsettling and least sympathetic role ever.  Viewed in 2021, it also provides a grim snapshot of life in Britain in the early 1970s.  Its story unfolds against a backdrop of brutalist architecture, anonymous municipal housing and concrete bunker-like interiors, an environment where toxic masculinity, blinkered prejudice and instinctive misogyny seem to flourish.
The Offence's opening sequence takes place inside a police station.   A uniformed copper realises something is amiss in one of the interrogation rooms, raises the alarm and rushes inside with several colleagues.  Director Sidney Lumet, with whom Connery had previously made The Hill (1965) and The Anderson Tapes (1971), stages the sequence with memorable weirdness, having the characters move in slow motion, muting the dialogue, and making the soundtrack a collage of exaggerated, juddering noises and needling instrumental music courtesy of composer Harrison Birtwhistle.  At the sequence's end, the distorted noises and music give way to the ringing of an alarm bell and we see Connery standing in the middle of the room.  He's surrounded by the bodies of people, including policemen, whom he's just clobbered.  What's happened is a mystery, but Connery's character is clearly giving off a bad vibe.
Then the narrative shifts back in time.  The police are shown to be out in force, keeping a close watch on a school at the edge of a non-descript English housing estate.  They are there because the area has recently seen a series of sexual assaults on young girls.  In the midst of the activity is Connery's character, Detective Sergeant Johnson.  He struts around in a sheepskin jacket, drop-brim tweed hat and big 1970s moustache and sideburns, whilst being boorish, opinionated and self-consciously macho.
But the police mess up.  When the school-day ends and the kids leave, a girl goes missing.  A desperate search for her is launched in the fields and woods beyond the estate.  Lumet films this atmospherically – the daylight fading from a leaden sky, the lights of torches bobbing through the gloaming, the barking of tracker dogs and crackle of police walkie talkies pervading the air.  The girl is eventually found, brutalised and traumatised but still alive.  Johnson is the one who finds her.  As we're aware of his bad karma from the opening sequence, there's something disturbing in how he croons platitudes and struggles with the girl as he attempts to calm her.
© Tantallon / United Artists
Later that evening, a suspect is picked up.  This is Baxter (Ian Bannen), whom the police first spy tottering drunkenly across a serpentine pedestrian bridge in the local town centre.  Unable to give an account of what he was doing that day, he's taken into custody.  Something about Baxter seems to push all of Johnson's buttons and Johnson becomes convinced of his guilt.  Baxter is seedy and louche, but also well-spoken and well-educated, and he's obviously come down in the world for some reason.  Though the script doesn't make anything of it, there's a hint that he's gay, which no doubt enflames Johnson's alpha maleness too.  This part of The Offence culminates with Johnson sneaking into the interrogation room to speak to Baxter in private.  Lumet shows a little, not all, of the emotional and physical violence that follows.  Johnson beats Baxter to a pulp, presumably the first act in the mayhem that was glimpsed in the film's prologue.
Thereafter, The Offence shifts gears and three long, dialogue-heavy scenes ensue.  These scenes reveal the film's origins on the stage, for it's based on a theatrical play called This Story of Yours, which was first performed in 1968 and written by John Hopkins.  The playwright also wrote the film's script.  Intriguingly, when This Story of Yours was revived in 1987, the role of Johnson went to the actor who was the screen's finest Hercule Poirot, David Suchet.
First comes a scene where, after the violence, a chastened Johnson returns home.  Unsurprisingly, from what we've seen of the neighbourhood so far, he lives in an identikit block of flats where for a moment he tries to enter the wrong apartment by mistake.  He talks bitterly with his wife (Vivien Merchant) until two of his colleagues show up to inform him that Baxter has died of his injuries in hospital and he needs to accompany them back to the station.  The second scene takes place the next day and sees Johnson interrogated by a Detective Superintendent (Trevor Howard) who's been sent to the town to find out what the hell is going on.  The third scene is a flashback to Johnson's confrontation with Baxter and this time it's shown in full.
The scene between Johnson and his wife, whose relationship has so deteriorated that they torment each other, intentionally and unintentionally, just by being in each other's presence, is painful enough.  "Why aren't you beautiful?" he growls at her. "You're not even pretty."  It's made worse by the knowledge that both performers were in ugly domestic situations in real life at the time.  Connery's marriage to actress Diane Cilento ended the year that The Offence was released and Cilento later alleged that he'd subjected her to physical and emotional abuse. Merchant, meanwhile, died of alcoholism and depression in 1982, aged only 53, following the slow and traumatic breakup of her marriage to the playwright Harold Pinter.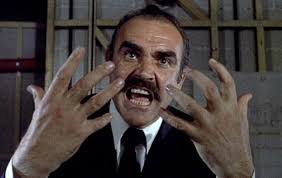 © Tantallon / United Artists
The scene with Trevor Howard's Detective Superintendent, rattled by what's happened but trying to extend some sympathy to Johnson as a fellow copper, is merely tense.  But it's the flashback to the events in the interrogation room that gives The Offence its devastating punch.  Johnson might be Baxter's physical superior but, despite his attempts to intimidate him, it's Baxter who gains the upper hand.  He's smart enough to realise how screwed up Johnson is and taunts him about his obsession with this case.  Is it because of a deep-rooted fascination with the crimes?  Is he secretly turned on by these sexual assaults on children?  "Nothing I have done," Baxter tells him, "can be one half as bad as the thoughts in your head."
It's comes as no surprise that there is bad stuff festering inside Johnson's head.  During the film, we've seen him suffer brief but harrowing recollections of the grisly crimes he's had to deal with as a policeman – hanging corpses, murdered women tied to beds, people throwing themselves off rooftops, bloodstained children's toys.  He's also been haunted by images of the abused schoolgirl he found the previous day, not hysterical, but smiling at him enticingly.
Finally, like a penitent sinner before his priest, Johnson confesses to Baxter that what he's said is true – just before, unhinged, he subjects him to that fatal beating.  Also, in his blind rage, he floors several of his colleagues who burst in and try to intervene.
I don't think Ian Bannen ever gave a better performance than as the perceptive and manipulative Baxter, who gets the last laugh even though it costs him his life.  There are good turns too from Howard, Merchant, future sitcom-star Peter Bowles as the police station's token posh detective, and Durham-born Ronald Radd as its token gruff, northern one.  Also in the cast is strapping character actor John Hallam, who appeared in two more British crime movies on either side of The Offence, Villain (1971) and Hennessy (1975).
But Connery ultimately takes the acting honours, for daring to subvert the macho-ness of Bond and the other heroic roles he'd been associated with.  Here he explores the severely damaged psyche of someone who uses a macho exterior as something to hide behind.  I've read speculation that The Offence's box-office failure persuaded Connery not to play more characters like Johnson, but I wonder if that's really the case.  Even if the film had made money, having inhabited Johnson's skin once, did he feel any need to do it again?
Though after The Offence he'd stick to more sympathetic and heroic roles, there were, thankfully, several more Connery movies to come that were serious in intent and tried to engage the intellect.  Highlander (1986) and The Rock (1996) were still some way off…
© Tantallon / United Artists