© Horla Magazine
A new short story of mine, Problem Family, is now available to read online at Horla Magazine.  As it's a horror story, it's attributed to Jim Mountfield, the pseudonym under which I write macabre fiction.
The main inspiration for Problem Family was a real-life incident that happened to me in Colombo a couple of years ago, when I was living in a different apartment building from the one I live in today.  An extremely noisy family lived in an apartment on the floor below mine.  For some reason – the building's acoustics, the way the stairwell was positioned – the noise they generated seemed to flow straight up to my front door.  Indeed, it sometimes seemed like the loud melodramas they were enacting were taking place right on the other side of my door.   One evening, I heard adult male and female voices screaming at each other and became convinced that, if this went on for much longer, the woman was going to be assaulted.  So, reluctantly, I ventured downstairs, ostensibly to tell them to shut up, but really to find out if I needed to report something to the police.  Thankfully, the situation proved to be non-violent – and at my appearance, the pair of them did shut up.
© SpectreVision / RLJE Films
Also, in part and completely differently, Problem Family was inspired by the famous 1927 sci-fi / horror story The Colour Out of Space by H.P. Lovecraft.  This is an account what happens after a meteorite strikes a remote area of Massachusetts.  A nearby farming family begin to succumb to what initially seems to be a weird, creeping, expanding poison but is actually a grotesque alien lifeform exuding an indescribable colour – it was 'only by analogy that they called it a colour at all'.  The Colour Out of Space has been filmed several times, starting with a rather duff version starring Boris Karloff and directed by Daniel Haller in 1965, and most recently in 2019 with a phantasmagorical version courtesy of director Richard Stanley.  The 2019 film is slightly too reminiscent of John Carpenter's The Thing (1982), but benefits from a striking colour palette – it's difficult to depict unknown alien colours on celluloid, so Stanley settles for making everything a garish purple – and from Nicholas Cage in the lead role, doing the sort of acting things that only Nicholas Cage is capable of doing.
You can also hear The Colour Out of Space being read aloud on this video from the BBC's 'interactive culture magazine' Collective.  Brilliantly, the reader is none other than the late, great Mark E. Smith, vocalist with and guiding light of abrasive post-punk / alternative rock band the Fall.  The sound of Smith's thick Mancunian accent and the Massachusetts accents of Lovecraft's characters battling for supremacy is something else.  I have to say, though, that the bit at the beginning where Smith sticks out and wiggles his tongue is as terrifying as anything in the story itself.
Fittingly for a magazine that takes its name from The Horla, the classic 1887 story by Guy De Maupassant, Horla describes itself as 'the home of intelligent horror'.  Its main page, which gives access to a bevy of cracking stories, can be reached here.  Meanwhile, Problem Family itself can, for now, be read here.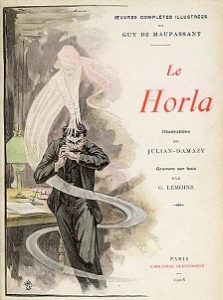 © Librairie Ollendorff