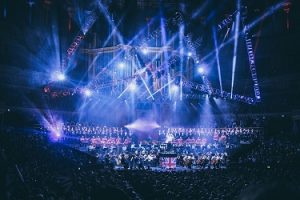 From unsplash.com / © Vienna Reyes
Having perused the British media for the past week, I've reached the conclusion that the song that best sums up late-August Britain in this coronavirus-stricken year of 2020 is The Sound of Silence, recorded by Paul Simon and Art Garfunkel in 1964, although not a hit for them until two years later.
But it would have to be The Sound of Silence played with the volume turned down.  No sound.  Just silence.
The first silencing I've read about is one that's caused the latest stramash in Britain's seemingly never-ending culture wars.  Previous instalments in these culture wars have seen a statue of a notorious slave trader in Bristol get chucked into the sea and ridiculous long-haired historian Neil Oliver react to the deed by wailing about 'anarchists and communists' trying to destroy the British way of life…  Shaven-headed right-wing thugs giving Nazi salutes in London whilst attempting to protect another statue, one  of Winston Churchill, a man revered in Britain for, er, standing up to Nazis…  And a great deal of red-faced spluttering when the BBC, on its UKTV streaming service, temporarily suspended a 1975 episode of Fawlty Towers in which the dotty old Major character uttered some offensive racial epithets.
The BBC is also at the centre of the newest storm.  It's decided to have the patriotic British songs Land of Hope and Glory and Rule, Britannia performed at this year's Last Night of the Proms concert in the Royal Albert Hall without vocalists there to sing the lyrics.  The BBC claims this is to reduce the number of people onstage and allow for social distancing.  It detractors allege it's because the lyrics have been deemed inappropriate in these overly sensitive, politically correct times.
In the clips of Last Night of the Proms concerts that I watched on TV in the past – in the distant past, because even as a teenager I found it a gruesome spectacle and never wanted to look at the thing again – most of the singing was done by the audience.  And the audience was a sea of drunken, Union Jack-waving Hooray Henrys and Hooray Henriettas making a cacophony that was as pleasant to listen to as a burning chicken-shed.  Due to Covid-19, the audience won't be present this year.  That's got to be an improvement, whether or not the songs are performed as instrumentals.
Predictably, the BBC's decision to de-vocalise the songs was greeted by howls of outrage from the right-wing shit-sheets that make up much of the British national press, i.e. the Sun, Daily Telegraph, Daily Mail and Daily Express.  It was also seized upon by Prime Minister Boris Johnson who, after performing a veritable Gordian knot of humiliating U-turns recently, was desperate to direct attention away from his governmental crapness.  Johnson declared that it was time to 'stop our cringing embarrassment' about being British.  Actually, at this stage, the best way to stop people feeling embarrassed about being British would be to build a time machine, pop back in time 56 years and persuade Stanley Johnson to wear a condom.
Also climbing onto the anti-BBC bandwagon was publicity-seeking hybrid human-donkey mutant Nigel Farage, who promptly tweeted footage of himself singing a lusty rendition of Rule, Britannia at some pro-Brexit rally.  This in turn prompted comedian David Baddiel to remark: "There might be some who feel a little sad about Rule, Britannia, seeing it, now divorced of triumphalist origins, only as a Proms tradition.  Watching this, however, makes it clear how it's still basically a C*nts' Anthem."
Well, I wouldn't be quite as severe as Baddiel in his assessment of Rule, Britannia, though I too have difficulty thinking positively of it and Land of Hope and Glory when I see the likes of Nigel Farage belting them out.  But apart from that, in terms of actual musical quality, I've always thought Rule sounded a bit cheesy and Land was a pompous dirge.  I say that as someone who spent his childhood in a fairly Protestant part of Northern Ireland, where the air often reverberated with the sound of people singing patriotically pro-British tunes.  While these tunes were frequently offensive to Roman Catholic ears, they, unlike Rule and Land, at least managed to be catchy.
(I remember one good friend from a quarter-century ago, a university lecturer who was a skilful pianist.  His university would sometimes rope him into providing live background music at official receptions.  He confessed to me that during one such event, bored stiff with 'tinkling the ivories', he felt a sudden powerful urge to start playing The Sash.  When I pointed out to him that he was a Glaswegian Catholic, and had a cousin who'd once been skipper of the Glasgow Celtic football team, and therefore wasn't supposed to be a fan of The Sash, he shrugged and said, "Aye…  But at least it stirs the blood.")
© Warner Music Group – XS Music Group
© Victor
However, it hasn't just been Rule, Britannia and Land of Hope and Glory that have been silenced lately.  Reading a separate news story, I learned how restauranteurs in Scotland have been complaining about a ban on music on their premises, prompted again by the current Covid-19 pandemic.  The Scottish government implemented the ban on August 14th, afraid that if eateries were full of loud music, people would have to tilt their heads close together and shout and thereby increase the risk of spreading the virus.  The restauranteurs have dismissed this thinking as 'ridiculous', 'nonsense', 'a disgrace' and having 'no logic'.  One even complained that "We need background music to kill the deathly hush as people feel they have to start whispering when a restaurant is quiet.  Diners want to eat out in a place with atmosphere, not a library."
This set me thinking of the half-dozen restaurants that my partner and I most often go to in Colombo, Sri Lanka, our current city of residence.  I can't remember hearing music played in three of them.  If it was played, it was at such a low volume as to be unnoticeable.  One restaurant plays music but softly and unobtrusively – I recall Bob Dylan's Ballad of a Thin Man (1965) getting an airing there the other week.  The fifth used to play some weird 1960s Euro-lounge / psychedelic / jazz stuff, like what you'd hear on the soundtrack of a Jess Franco movie, but they seem to have stopped that since the venue reopened after Sri Lanka's two-month Covid-19 curfew.
In fact, only one of the six restaurants plays music at a distinctly discernible level and that makes it problematic for us.  Although the staff are lovely, the décor is charming and the food is decent, the music is often naff and intrusive.  Commonly featured on its aural menu from hell are Phil Collins, Robbie Williams, Coldplay, the Corrs and 1970s / 1980s-era Fleetwood Mac.  Come to think of it, there's only thing I can think of it that's more horrible than the Corrs and Fleetwood Mac, and that would be the Corrs doing a cover version of a Fleetwood Mac song.  And – oh yes! – the restaurant sometimes plays that puke-inducingly twee version of Fleetwood Mac's Dreams that the Corrs did in 1998.
So in other words, the only restaurant we have an issue with is the one that plays music at any volume.  And the reason we like to eat in a quiet environment, or in a near-quiet one, is so that we can generate our own noise by indulging in the basic human art of conversation.  We like to communicate while we eat, and I certainly like to communicate without having to shout and risk spraying mouthfuls of grub into my dining companion's face.  Also, I assume that any half-decent, welcoming restaurant will be one where the customers feel relaxed enough to strike up conversation immediately.  The afore-mentioned 'deathly hush' where people feel 'they have to start whispering' would suggest a venue that's snobby and inhospitable.
The same news story contained one quote that made sense to me, however.  It came from a spokesman for a chain of pubs who snorted contemptuously, "We don't go with the crowd so we don't have music in any of our premises.  Our customers are used to it and like it.  We have shown you don't need music to run a pub."  Quite right.  Just let the punters chat to one another and create their own entertainment.
Alas, that spokesman represented the JD Wetherspoon chain, which run 75 pubs in Scotland.  It's also the property of Tim Martin, who's a well-known Brexit-loving, Faragist nincompoop.  Martin's the sort of bloke who probably thinks Covid-19 is a leftist-woke conspiracy to stop patriotic folk from properly singing Rule, Britannia and Land of Hope of Glory by forcing them to wear facemasks.
Thus, realising that I've just agreed with a statement issued by Tim Martin's outfit, I think I need to have a wee lie-down now.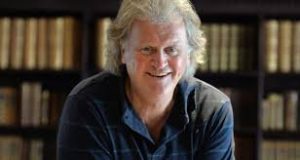 © The Irish Times / Alan Betson