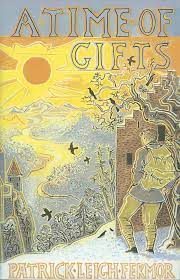 © John Murray
Following my blogpost about the biography of the travel writer Patrick Leigh Fermor, I thought it would be timely to repost what I'd written in 2015 about Fermor's books A Time of Gifts (1977) and Between the Woods and the Water (1986).
It's hard to know where to start with A Time of Gifts and its sequel Between the Woods and the Water, which chronicle the first part of a journey that Patrick Leigh Fermor made across Europe, on foot, in the mid-1930s.
To simply describe them as travel books would do them a disservice.  Fermor, who was a lad of 18 when he started this epic walk, and who'd later become known as a soldier, decorated war hero, author, scholar and polyglot, has a voracious eye for detail that refuses to confine itself to mere geography.  You also get pages of observation and speculation about the history, mythology, art, architecture, languages, costumes and music of the locales that he visits.  At times, it seems like his teenaged brain is the mental equivalent of a blue whale, cruising along, sucking in and trapping every iota of information that comes its way, just as the baleen plates in a whale's maw sift up tons of krill.
Depending on your interests, and patience, this can make the books a fascinating and delightfully anecdotal read; or a distractingly long-winded and rambling one.  I have to say there were moments when I found them fascinating, delightful, long-winded and rambling all at the same time.
And they're verbose.  Regarding writing, Fermor certainly doesn't believe in the Ernest Hemingway 'less is more' approach.
A Time of Gifts details Fermor's progress, in 1933 and 1934, from Rotterdam and through the Low Countries; into Germany, where he passes through Cologne, Stuttgart and Munich; into Austria and to Vienna; by way of a detour, up into Czechoslovakia and to Prague and back; and to the western borders of Hungary.  Between the Woods and the Water continues the story from there and by the end of the second book he's travelled across Hungary and Romania. A third book, The Broken Road, was published after Fermor's death in 2011.  I haven't read it yet but I assume it completes the journey and sees him arrive at his ultimate destination, Constantinople, in 1935.
Perusing these books in 2015, you're aware of what would happen to Europe a few years after he'd walked through it.  You sense that many of the communities, cultures and places described would soon be transformed – disfigured at best, erased at worst.  Viewing the books from this sombre perspective, you can't begrudge Fermor his obsession with detail.  You want him to get everything recorded, before it's too late.
Events in 1930s Germany send subtle but menacing ripples through the books.  In one Rhineland town in A Time of Gifts, he accepts a youth's offer of a night's sleep in an attic.  He discovers the attic to be "a shrine of Hitleriana.  The walls were covered with flags, photographs, posters, slogans and emblems."  The youth tells him: "You should have seen it last year!  You would have laughed. Then it was all red flags, stars, hammers and sickles, pictures of Lenin and Stalin and Workers of the World, Unite…!  Then suddenly, when Hitler came into power, I understood it was all nonsense and lies.  I realised Adolf was the man for me.  All of a sudden!"
Later, in Between the Woods and the Water, Fermor encounters a group of orthodox Jews in the Carpathian Mountains and, while he chats to them, the issue of Nazi Germany crops up: "They came into the conversation and – it seems utterly incredible now – we talked of Hitler and the Nazis as though they merely represented a dire phase of history, a sort of transitory aberration or a nightmare that might suddenly vanish, like a cloud evaporating or a bad dream."
Meanwhile, it's worth considering these books from another perspective.  Although Fermor did the travelling in the 1930s, he didn't do the writing until decades later.  He finally got A Time of Gifts published in 1977 and Between the Woods and the Water in 1986.  Thus, while the books' narrator views the world through the eyes of a teenager, a second pair of eyes are at work here, those of a man in his 60s and 70s with immeasurably greater knowledge and experience.  While Fermor waxes loquaciously about the forces shaping German art, or the Kingdom of Bohemia's connection with Shakespeare's A Winter's Tale, or the elephant that Harun al-Rashid gave to Emperor Charlemagne, or the remnants of Turkish culture found on Ada Kaleh Island, you're not, as you may initially think, hearing the thoughts of a super-intelligent boy genius.  Many of those thoughts belong to the old Fermor, but they're expressed in the excitable voice of the youth.
© John Murray
There's another point, one that might trouble readers who open a book about a real-life journey made by a real-life traveller expecting the events in it to be, well, real.  Fermor subsequently lost many of the notes he'd written during the trip and in the 1970s and 1980s had to reconstruct a lot using his memory, which admittedly was a formidable one.  And as a report in the BBC news magazine in 2012 suggested, certain episodes may have been embroidered.  One bone of contention was Fermor's account in Between the Woods and the Water of how he crossed the Great Hungarian Plain.  The book says he did it on horseback.  Some 27 pages are spent in the company of a horse called Malek, "a fine chestnut with a flowing mane and tail, one white sock, a blaze and more than a touch of Arab to his brow".  This aroused the suspicions of Fermor's editor and biographer Artemis Cooper because, in an earlier draft of the book she'd seen, the beast hadn't existed.  Fermor admitted to her, "Ah yes, well, I thought everyone would get tired of me trudging along, so I put myself on a horse for a bit – you won't let on, will you?"
Actually, what bothers me more than these embellishments is Fermor's reliance on well-to-do contacts for accommodation and sustenance, which increases the further he travels.  His original manifesto was to "set out across Europe like a tramp…  like a pilgrim or a palmer, an errant scholar, a broken knight…  I would travel on foot, sleep in hayricks in summer, shelter in barns when it was raining or snowing and only consort with peasants and tramps."  When he does this, the results are engrossing.  He dallies with Rhineland bargemen, Hungarian gypsies and Transylvanian shepherds.  He encounters a Franciscan monk called Brother Peter, with whom he communicates in Latin and passes the time playing games of skittles; and a down-at-heels eccentric called Konrad who, in Vienna, encourages him to make money by going around the city's wealthier homes and offering to draw sketches of the inhabitants.  Sketching, apparently, was yet another of Fermor's talents.
Gradually, though, Fermor falls in with a succession of aristocrats and moneyed folk.  Each of these gets in touch with relatives or friends further along his walking route and arranges for them to put him up.  So Fermor makes increasingly-frequent stops at big houses, where he dawdles among drawing rooms, libraries, servants, vintage motor cars, lavish family picnics and sumptuous evening balls.  He hangs out with people with names like Baron Rheinhard von Liphart-Ratshoff, Count Graf Joseph, Baron Pips, Captain Tibor of the Horse-Gunners, Countess Ilona Meran, Count Lajos, Count Józsi and Count Jenӧ.  There's a fellow called Tibor living in a house with a "Palladian façade" and another called Istvàn living in "a mixture of manor house, monastery and farmstead".  Between the Woods and the Water, especially, contains so many aristos that they start to blur into one another.
At this point I should declare an interest.  When I was 17, I made my own trip across mainland Europe.  I started off near Lausanne in Switzerland, where I'd earned money from a grape-picking job, and travelled to Bern, Interlaken, Lucerne and Zurich; then into Liechtenstein and through the western end of Austria; into Germany, to Munich, Stuttgart, Heidelberg and Bonn; and finally into the Low Countries and to Brussels and Rotterdam.  I didn't walk, but hitchhiked, for back then hitchhiking was still a relatively safe and acceptable form of transport.  This meant that while Fermor got to see some of the greatest natural and historical sights of Europe, I got to see a lot of entry-ramps leading down into Autobahns.  For much of the way, my travelling companion was a guy from Stevenage who claimed to be both a football hooligan and a drummer in a punk-rock band, so our conversations were slightly less highbrow than those of Fermor and his new-found chums in aristocratic central Europe.  While I never slept in a barn or a cave-entrance like Fermor did occasionally, I didn't enjoy the hospitality of the continent's landed gentry either.  My evenings were spent in a succession of Swiss and German youth hostels, which in those days were run with Teutonic strictness.
Indeed, I suspect that if I'd set foot on the estates belonging to Baron Rheinhard von Liphart-Ratshoff, Count Graf Joseph, etc., they'd have taken one look at me, grabbed a gun and sprayed me with buckshot.  Not that I'd have wanted their hospitality.  I'd been raised by typical Northern-Irish Protestant parents who'd instilled in me a devotion to the principles of independence and self-reliance.  The worst thing a Northern Irish Prod could do was accept charity or favours from somebody else.  Hitching a lift with someone for a few miles along the road was bad enough.  Turning up on a stranger's doorstep and expecting to be housed and fed was diabolical.  But this wasn't an issue for Fermor who, as a member of Britain's ruling class, seemed to have both self-confidence and shamelessness in his genes.
Still, I'm aware of how this old Hungarian-Romanian aristocracy was shortly to be obliterated, courtesy of Hitler and Stalin.  I can understand why Fermor, writing these books decades later, wanted to commemorate these people and the hospitality they showed him.
Anyway, although the books induced some occasional crankiness in me, I generally liked them a lot. Despite Fermor's rich-and-powerful friends and his many brainy digressions, there's much in the character of their 18-year-old narrator that I can identify with – through my memories of what I was like at a similar age – and there are passages that are wonderfully evocative in a youthful, wide-eyed, open-to-everything way.  For example, Fermor's description of an Easter Sunday parade shortly after he's entered Hungary: "Woken by the bells and the music, the storks in the town were floating and crossing overhead and looking down on our little string of lights as it turned uphill into the basilica again.  The intensity of the moment, the singing and candle flames and incense, the feeling of spring, the circling birds, the smell of fields, the bells, the chorus from the rushes, thin shadows and the unreality of the moon over the woods and the silver flood – all these things hallowed the night with a spell of great beneficence and power."
Or a description of a glade he encounters while wandering in the forested uplands of the Carpathians: "there lay… a space like an enormous room: a long, enclosed clearing where beech trees sprang up like gigantic pillars flinging out vaults of tangled and interlocking boughs.  Grey in shadow, their smooth trunks were flecked with silver where the sunbeams spilt their way through an infinity of leaves and scattered blurred discs of light over the bark and the muscular spread of the roots; they shed a sparser and still more grudging confetti on the unencumbered floor."
Yes, there are moments when Fermor, writing this in his 60s and 70s, seems in danger of succumbing to purple prose, to poetic overkill, to whimsy.  But with those sentences ringing out in the voice of his exuberant 18 or 19-year-old self, he gets away with it – rather magically.
© The Patrick Leigh Fermor Archive