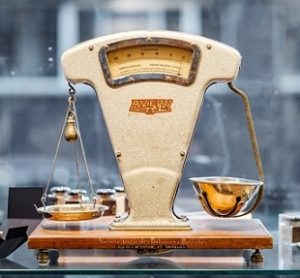 From unsplash.com / © Piret Ilver
Reading last week's news reports from the United Kingdom, I didn't know whether to laugh or cry.  The media minister John Whittingdale reached levels of daftness I thought were beyond even Boris Johnson's Conservative government when he declared at the Royal Television Society Convention that the BBC, ITV and Channel 4 should make television programmes that 'showcase British culture' and 'reflect Britain and British values'.  However, subsequent plans set out by the spectacularly useless Brexit minister Lord Frost that would allow shops, supermarkets and market stalls to sell their wares using old imperial measurements went rocketing into even higher parts of the stratosphere of stupidity.
I'll talk about the measurements first.  The Conservatives are well aware that the bulk of their support lies among people who are older, more set in their ways, more likely to have acquired property and savings and more susceptible to fearmongering baloney from the Daily Mail and Daily Express about socialists wanting to redistribute their wealth.  So, I suppose Conservative Party apparatchiks believe they're appealing to this constituency and its sense of nostalgia by bringing back the good, old-fashioned ounces, pounds, quarts, pints, inches, feet, etc., that were the units of measurement in their youth.  But hold on.  I'm now closer to sixty than I am to fifty and even I can't remember a time when I measured things and made calculations using the imperial system.
When I was a kid at primary school in the early 1970s, it was the metric system I learned about – millimetres and centimetres, metres and kilometres, millilitres and litres, grammes and kilogrammes.  And it was really easy.  Everything was organised in tens, hundreds and thousands.  Even if you had neutron-star levels of denseness when it came to maths, you knew that to multiply something by tens, hundreds or thousands you just added one, two or three noughts to the number in question.
My parents, I have to admit, struggled to get their heads round the metric system.  This astonished me.  Just a couple of years earlier, they'd happily been performing mental gymnastics every time they went into a shop and used the UK's pre-decimalisation currency system that had – yikes – one pound consisting of 240 pennies.  Also, I remember watching an early episode of the saucy department-store sitcom Are You Being Served? (1972-85) wherein battle-axe sales assistant Mrs Slocombe was so confused by centimetres that she called them 'centipedes'.  Wow, I thought.  Mrs Slocombe must be really thick.
From nowthatsnifty.blogspot.com / © BBC
And what do I know of the imperial system today?  Well, words like 'miles', 'stones' and of course 'pints' are ingrained on my vocabulary because they never disappeared from British road-signs, weighing scales or pub-menus.  But like most people my age and younger, I suspect, how these units fit together is a mystery to me.  I know there are twelves inches in a foot, because inches and feet were marked along the bottom side of my school ruler, which had 30 centimetres marked along the top side that I measured things and drew straight lines with.  And I know there are 14 pounds in a stone… or is it 16?
But the rest is just baffling.  The relationship between feet, yards, chains, furlongs and miles?  I haven't a scooby.  (Okay, having just checked the Internet, I can report there are three feet in a yard, 22 yards in a chain, ten chains in a furlong and eight furlongs in a mile.)  Between stones, hundredweights and tons?  No bloody idea.  (Again, having checked: 14 pounds make a stone, 112 pounds make a hundredweight and 2240 pounds make a ton.)  Gills, pints, quarts and gallons?  I'm totally clueless.  (In fact: four gills make a pint, two pints a quart and four quarts a gallon.)
So, anyway.  The British government is about to give retail businesses the go-ahead to inflict upon their customers an archaic system of measurements that the majority of Britons under the age of 60 don't understand and, even if they did, would find migraine-inducingly difficult to calculate in…  All part of the impeccable logic of 2021 Brexit Britain.
From unsplash.com / © Edson Rosas
I suppose John Whittingdale's proposals about British TV programmes having to contain a quota of 'Britishness' make slightly more sense because fewer young people nowadays watch 'linear' TV – i.e., programmes that are broadcast on a particular channel according to a pre-determined schedule.  The traditional, old-fashioned sort of telly that the politicians are obviously thinking about here is watched by an older and more conservative demographic, so having programmes with a more patriotic slant would probably go down well with many of the viewers.  But that's not to say that the concept isn't idiotic.
The examples Whittingdale cited of TV shows that reflect 'Britain and British values' include The Great British Bake-Off (2010-present) – well, I suppose the clue is in the name; the Carry On films, which, oddly enough, aren't actual TV shows at all, but films; Only Fools and Horses, a sitcom that started in 1981 and ended its run as a series in 1991, three decades ago; and, surprise, museum-piece drama Downton Abbey (2010-11), created by Julian Fellowes, now incidentally a Conservative peer in the House of Lords, and which the late A.A. Gill once memorably described in the Sunday Times as "everything I despise and despair of on British television: National Trust sentimentality, costumed comfort drama that flogs an embarrassing, demeaning, and bogus vision of the place I live in."
The idea of promoting 'Britishness' and 'British values' in TV programmes shatters into tiny, ridiculous pieces the moment you think about it.  Being British is something that applies (whether they like it or not) to Diane Abbot, Monica Ali, Alan Bennett, Anjem Choudary, Jeremy Clarkson, Nick Cohen, Arlene Foster, Armando Iannucci, Ken Loach, Val McDermid, Sir Steve McQueen, Meera Syal, Peter Tatchell, Gok Wan and Leanne Wood.  It applies to the current darling of the British media, the British-Romanian-Chinese-Canadian tennis player Emma Raducanu and, God help us, to Jacob Rees Mogg.  Good luck with finding common values among that lot.  Not that these disparities matter to Whittingdale and his government colleagues, who seem to believe being British means either being a toff with oodles of money, servants and a cut-glass accent – as represented by Downton Abbey – or being a working-class Cockney who likes a bit of a 'laff' (see Only Fools and Horses) and a bit of good-natured smut (see Carry On Up the Double Entendre or whatever).
From Gold / © BBC
Still, something in Whittingdale's reptile brain made him realise there were people in the UK who didn't fall into these two categories.  Presumably, this was why he cited the Northern Irish comedy Derry Girls (2018-2019) as another example of Great British programming.  If it was an example of that, though, shouldn't it be called Londonderry Girls?
I suppose the thinking is, with the idiotic and Tory-approved decision to leave the European Union subjecting Britain to food shortages, jacking up its energy prices and wrecking its farming, retailing and other industries, the government needs a distraction.  Especially, it needs to distract the elderly folk most likely to vote for them.  Thus, they promote garbage like this in the hope it'll kindle a rosy, agreeable glow of nostalgia in such folk.  And, with a bit of luck, it'll enflame them too, making them believe the government is waging a culture war on their behalf against horrible, woke Marxists and anarchists who want to destroy the British way of life by using centimetres and kilogrammes and dismissing Downton Abbey as a pile of cobwebbed shite.
Incidentally, in the same vein, here are the moves I expect Boris Johnson's ministers to announce next:
Banning all computer games whilst bringing back the patriotic British World War II comics of the 1970s. Instead of rotting their brains playing Assassin's Creed Valhalla or Batman: Arkham City, British kids will develop some proper red, white and blue grit by reading about the adventures of D-Day Dawson in Battle and Union Jack Jackson in Victor, once a week, on cheap crinkly paper whose ink comes off on their hands.
Bringing in new laws to enforce the wearing of patriotic, and groovy, British fashions like platform shoes, bell-bottoms, plaid jackets, wide-lapel shirts, turtlenecks, cravats and long, lank greasy hair, so that everyone looks like a character in a 1970s Pete Walker horror movie.
Abolishing health and safety rules so that children can once again experience the adventure and thrill of playing around railway cuttings, disused canals, electrical sub-stations, slurry pits and tracts of dark and lonely water, like (the survivors of) their grandparents' generation used to do.
Bringing back hanging. To be honest, I'm not joking now.  With Priti Patel as Home Secretary, I can see this happening.