© Eon Productions
At last!  Two years after its first scheduled release in November 2019 (abandoned when Danny Boyle, originally lined up to be director, departed from the project), and a year-and-a-half after its next scheduled release in April 2020 (abandoned because of the Covid-19 pandemic), and a couple of months after it went on release in the UK, the 25th James Bond movie No Time to Die has made it to Sri Lanka and I've been able to watch it on a big screen.
It was odd to finally see the movie in its 163-minute entirety.  I'd become accustomed to seeing it as a two-and-a-half-minute trailer during my infrequent trips to the cinema during the past two years.  Up it popped before Tenet (2020) last summer, up it popped again before Godzilla vs. Kong (2021) in May this year…  And when the No Time to Die trailer popped up yet again before I started watching Dune (2021) in a cinema a few weeks ago, I thought, 'My God, am I ever going to see this thing as a film?'
Anyway, here are my thoughts on No Time to Die, which marks Daniel Craig's final appearance as James Bond.  I'll start by listing what I didn't like about it, then what I did like about it, and then I'll give my overall verdict.  I will, as much as I can, try to avoid spoilers.  But be warned that some spoilers will inevitably appear.
DIDN'T LIKE…
Rami Malek's character
I'm not dissing Malek's performance as the film's big villain Lyutsifer Safin.  It's just that he doesn't get enough time to establish Safin as a character or a threat.  Yes, he's effective in No Time to Die's opening sequence, which with its arty snowbound setting, violence and jump-scares resembles something from an especially stylish 1970s giallo movie.  But after that we hardly see him again until the film's final reel.  Also, while a twisted and unsettling connection clearly exists between him and Lea Seydoux's Madeleine Swann character, the love of Bond's life, we frustratingly never learn much about it.  Contrast that with 1999's The World is Not Enough, which was a generally clunky Bond entry.  But at least it was more disturbing in how it depicted the warped relationship between Bond's nominal love interest Elektra King (Sophie Marceau) and psychotic bad guy Renard (Robert Carlisle).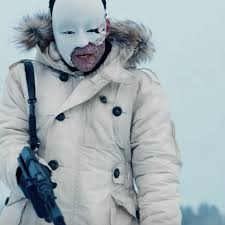 © Eon Productions
Rami Malek's character's age
Also, Rami Malek looks too young to be the same character who menaced Madeleine Swann when she was a child, as seen in that opening sequence, and who menaces her again as an adult.  My partner watched the film with me and speculated that, because he's disfigured, his damaged facial skin might have slowed the development of wrinkles…  But no, I'm not buying it.
While we're on the subject of age, I was perturbed that when Bond goes to mourn at the tomb of Vespa Lynd (Eva Green), his late and much-lamented love interest in Casino Royale (2006), a plaque on the tomb-door informs us that she was 23 years old when she died.  What?  In Casino Royale she was working as an agent with the British Treasury's Financial Action Task Force.  I know her character was young and something of a whizz-kid, but surely she wasn't that whizz-kiddish to have landed such a job and such responsibilities at the age of 23?
Blofeld's bionic eye
Despite having been banged up in Belmarsh Prison since the events of 2015's Spectre, it transpires that Ernst Stavro Blofeld (Christoph Waltz) has been secretly running his Spectre organisation from his cell with the use of a sneaky high-tech bionic eye (replacing the eye he lost in the helicopter crash at Spectre's finale).  We even get a daft scene where, during a Spectre party, Blofeld manages to orchestrate and comment on events via a bionic-eye-receiver that a minion is carrying around on a tray.  Where did this bionic eye come from?  How did Spectre smuggle it into him at Belmarsh?  Was it Blofeld's birthday, and a visitor managed to get it to him hidden inside a birthday cake?  And why didn't the prison's security systems – which seem pretty thorough, considering that Blofeld only gets to meet visitors inside a mobile metal cage, which is shuttled along tramlines to the meeting area – let this past them?  No, it's a total failure of plot-logic.
How You Only Live Twice's 'Garden of Death' gets shoehorned in
Ian Fleming's 1964 novel You Only Live Twice is one of my favourite Bond books, largely because of its bizarre plot.  This has Blofeld retiring to Japan, acquiring a castle and taking up gardening.  Blofeld being Blofeld, though, the garden he cultivates around his castle is a Garden of Death.  It's infested with poisonous vegetation and wildlife and dotted with boiling, sulphurous mud-pools.  Perversely, the garden's lethal features begin to draw visitors – Japanese people who want to commit suicide head there to die.  I'd always hoped one day the Garden of Death would feature in a Bond film and it does, finally, in No Time to Die.  But it appears only for a couple of minutes while Safin gives the kidnapped Madeleine a tour of his headquarters and, as a setting, its potential is wasted.
The action finale
No Time to Die's ending has proved controversial.  I have no problem with the events that occur in the last 20 minutes or so.  But I'm annoyed that the finale is rather fragmented and isn't the big sustained rush of excitement I'd wanted for the end of Daniel Craig's tenure as Bond.  There's a bit of action, then things stop for a while, then there's another bit of action, then things stop again, then a bit more action, then another pause…  It isn't so much Craig going out with a bang as with a stuttering series of pops.
Lashana Lynch's excellent Nomi character features here but isn't given enough to do.  Come to think of it, instead of just her and Bond being sent to infiltrate Safin's lair, wouldn't it have been better if they'd led an army of commandoes to attack the place?  That way, the action might have been more sustained, widespread and exciting.
© Eon Productions
LIKED…
Madeleine Swann's arc
Lea Seydoux isn't my favourite Bond-lady of the Daniel Craig era.  (Four days of the week, I worship at the temple of Eva Green.  The other three days, I worship at the temple of Naomie Harris, aka Miss Moneypenny.)  But at least her character Madeleine Swann gets to develop beyond the supposedly happy ending of Spectre and explore darker territory in No Time to Die.  This is a relief, as I'd heard rumours that the movie would be a re-tread of 1969's On Her Majesty's Secret Service and I'd feared that her character's only function would be to get bumped off early on, leaving Bond to spend the rest of the film on a simplistic revenge mission.
Ana de Armas and Lashana Lynch
Meanwhile, the other main actresses in No Time to Die are great.  De Armas (who co-starred with Craig in Rian Johnson's splendid 2019 whodunnit Knives Out) is a delight as Paloma, the supposedly inexperienced CIA agent who's assigned to help Bond with some espionage-related business in Cuba.  I shudder to think how a Roger Moore-era Bond movie would have portrayed her.  She'd have been a bumbling incompetent whose klutziness was a source of slapstick gags and mocking, sexist humour.  But here, when the shit hits the fan, Paloma proves to be more than capable.  Indeed, if the character has a fault, it's that she's not in the film long enough.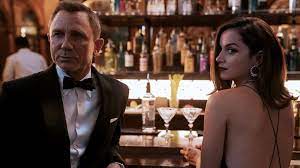 © Eon Productions
As I've said, Lynch's Nomi character – whom, Bond discovers, has been made the new 007 in his absence – could have been given more to do too.  But she still makes an impact and if producers Barbara Broccoli and Michael G. Wilson want to stay in this version of the Bond-verse a little longer and give Nomi her own spinoff movies, I'd happily pay money to go and see them.
The regulars
One of the pleasures of Craig's stint as Bond has been seeing the gradual reintroduction of the franchise's regular characters, rebooted and played by new but dependable actors – Jeffrey Wright debuting as Felix Leiter in Casino Royale, Rory Kinnear as Bill Tanner in Quantum of Solace (2008), Ralph Fiennes as the replacement for Judi Dench as M in Skyfall (2012), and Naomie Harris as Moneypenny and Ben Wishaw as Q also in Skyfall.  All are excellent again in No Time to Die.
I suspect the next Bond will be another reboot and we won't be seeing these actors in these roles again – Wishaw has already remarked that this is probably his last outing as Q – which is a shame.  I haven't enjoyed a Bond ensemble like this since Bernard Lee played M, Lois Maxwell played Moneypenny and Desmond Llewellyn played Q back in the days of Connery, Lazenby and Moore.
© Eon Productions
The fan service
As Casino Royale made clear, Craig's Bond is a new Bond.  He's not the same bloke as the one who encountered with Mr Kidd and Mr Wint in Diamonds are Forever (1971), or battled against Jaws in a space station in Moonraker (1980), or rampaged through downtown Moscow in a tank in Goldeneye (1995).  Still, it's nice that No Time to Die contains references to the pre-Craig Bonds, though not so intrusively that they threaten the continuity established since 2006.  It's cool, for example, that Bond drives the Aston Martin DB5 that Sean Connery drove in Goldfinger (1964), complete with similar gadgets, and we also see him climb into an Aston Martin V8 Advantage that Timothy Dalton drove in The Living Daylights (1987) – it's even got the same number plate (B549 WUU)!  In MI6 headquarters, we see not only a framed portrait of Judi Dench's M, but also one of Robert Brown, who played M during the late Roger Moore years and the Timothy Dalton ones.  Meanwhile, the title sequence echoes that of On Her Majesty's Secret Service by featuring a trident-holding Britannia figure, Union Jacks, clocks and hourglasses.
That said, I could have done with a little less of On Her Majesty's Secret Service's music on the No Time to Die soundtrack.  John Barry's OHMSS theme accompanies one scene set in London and Louis Armstrong's We Have All the Time in the World plays over the end credits.  This is wonderful, timeless music, of course, but it shows up the inferiority of No Time to Die's theme song, sung by Billie Eilish – which, while it's way better than Sam Smith's dire The Writing's on the Wall from Spectre, is still no classic.
Bond's arc
Daniel Craig's Bond movies have been a daring experiment.  Since Casino Royale, we've seen him carry out his first mission and make his first kill, fall in love, suffer tragedy, discover some uncomfortable truths about his upbringing and fall in love again.  In No Time to Die, he falls out of and back into love and has to make some difficult, final decisions.  Things haven't always gone smoothly – Spectre, in particularly, had to do some clumsy retconning to the story – but generally it's been a success.  Daniel Craig's performance in the lead role has helped hugely, of course.  So, hats off to Barbara Broccoli and Michael G. Wilson for being bold and keeping their nerve.
Mind you, I was relieved to see the words JAMES BOND WILL RETURN at the very end.
VERDICT?
Well, I liked it more than Quantum of Solace and Spectre.  But due to the issues I've described above, I didn't enjoy it quite as much as Casino Royale or Skyfall.  Which is a pity, because I've liked Daniel Craig's Bond and wanted him to go out on the highest note possible.  As it stands, I think No Time to Die is pretty good, but it's not going to alter the rankings in my top half-dozen, or possibly even my top ten, Bond movies.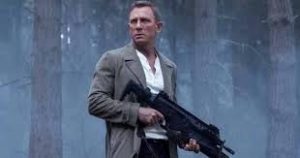 © Eon Productions