© Eon Productions
Continuing my ranking of all the James Bond films from worst to best, here are my candidates for the franchise's top twelve.  Candidates?  No, they are the top twelve.  Don't even try to argue with me.
12: The Living Daylights (1987)
Lately, The Living Daylights, Timothy Dalton's debut as Bond, has seemingly been reappraised and now figures highly in some rankings of the franchise.  It was even placed at number 4 in a recent feature in the Independent.  Well, hold on.  It's good, but not that good.  After 14 years of quips, raised eyebrows and safari suits, Dalton's more serious Bond is a breath of fresh air.  While preparing for the role, he even read Ian Fleming's original books, which no doubt helped.  He and love interest Maryam d'Abo make a likeable couple and the film begins strongly, its first act following Fleming's 1962 short story of the same name.  Later, alas, it gets unnecessarily muddled and the two main villains, despite being played by Jeroen Krabbé and Joe Don Baker, are rather blah, although Andreas Wisniewski is memorable as the lethal hitman / henchman Necros.  The scene where Necros engages in vicious hand-to-hand combat in a kitchen, using various kitchen utensils and appliances, was evoked in last year's Christopher Nolan epic, Tenet.  I hated Aha's theme song at the time, but since then it's grown on me.  (The same can't be said for Duran Duran's A View to a Kill.)
11: Dr No (1962)
I feel guilty ranking Dr No, the first entry in the series and the film that turned former Edinburgh milkman Sean Connery into a superstar, at only number 11 on this list.  However, when I saw it as a kid I was disappointed and that sense of juvenile disappointment has lingered ever since.  This was because I'd read Ian Fleming's 1958 novel Dr No beforehand and loved the fact that (1) it had a giant squid in it and (2) Bond killed Dr No at the end by burying him alive in bird-guano.  I was looking forward to seeing these things in the film, but neither appeared – the squid presumably because of budgetary restrictions and the guano presumably because it would have grossed out the audience.  So, if Connery had got to have a scrap with a giant squid and got to drown Dr No (Joseph Wiseman) in bird-shit, I'd have enjoyed the film more and placed it higher.
10: Thunderball (1965)
The previous movie in the series, Goldfinger (1964), got the emerging Bond formula exactly right.  In comparison, Thunderball seems slightly askew.  It's overlong and the copious underwater sequences slow the pace somewhat.  Still, it has much to enjoy.  Connery is at the top of his game and the film shows off its set-pieces (for example, Bond being pursued during some Bahamas Junkanoo festivities), its gadgets (for example, the jet-pack in the opening sequence) and its villains (for example, Luciana Paluzzi as Fiona Volpe) with as much brassy aplomb as big-lunged Welshman Tom Jones sings the theme song.
© Eon Productions
9: You Only Live Twice (1967)
I've always had a soft spot for You Only Live Twice, which has Sean Connery battling Ernst Stavro Blofeld and SPECTRE in Japan, although it's commonly rated as one of the lesser Connery Bonds.  Maybe it's because I lived in Japan for a good many years myself.  The theme song by Nancy Sinatra is, of course, lovely and there's a good supporting cast, including Donald Pleasence as Blofeld and Tetsuro Tamba as Tiger Tanaka, head of Japanese intelligence and one of the great 'Bond allies' – up there with Pedro Armendariz's Karim Bey in From Russia with Love (1963).  Apart from the Japanese setting, the film jettisons almost everything in Fleming's dark, introspective 1964 novel and replaces it with an archetypically ludicrous Bond-movie scenario: Blofeld wanting to trigger World War III by nicking American and Soviet spacecraft and hiding them in his secret hollowed-out Japanese volcano-HQ.  The futuristic volcano set, courtesy of production designer Ken Adam, is amazing.  Alas, its impact is vitiated in the final scenes when we see it as an obvious model, being rocked by explosions, with little dolls (representing the casualties of the film's climactic battle) bouncing up and down on its floor.
8: Casino Royale (2006)
Any half-decent movie was going to look good after the debacle of 2002's Die Another Day, and I feel Casino Royale, which rebooted the series and introduced current 007 Daniel Craig, is slightly overrated as a result.  But it's still pretty good.  Craig gives Bond an impressively physical exterior whilst suggesting that not all is as solid internally.  As Vesper Lynd, the sublime Eva Green is easily the best Bond girl since Michelle Yeoh.  And Mads Mikkelsen is great as the evil but harried Le Chiffre.  For once, the violence actually looks like it involves pain, stress and fear, no more so than when Bond gets his nuts whipped on a bottomless chair.  Kudos to the filmmakers for keeping the scene in which Le Chiffre gets his comeuppance as low-key as it was in Fleming's 1953 novel, although the subsequent stuff set in Venice, where Bond has to rescue Vesper from a building sinking rapidly into the Grand Canal, seems a tad gratuitous.  It's as if it was decided that a big, dumb action climax was necessary to keep the traditional Bond audience happy.
7: Tomorrow Never Dies (1997)
Some Roger-Moore-sized eyebrows will be raised at my inclusion of Tomorrow Never Dies in my top dozen Bonds.  But while this film isn't massively memorable, it doesn't do anything wrong either.  Michelle Yeoh as Wai Lin is easily the best Bond girl during Pierce Brosnan's four-movie tenure, Vincent Schiavelli makes a brief but memorable appearance as mordant assassin Dr. Kaufman, and the scene where Q, played by a now-octogenarian Desmond Llewelyn, gives Bond custody of a remote-controlled car is delightful.  And Jonathan Pryce has fun playing villainous media tycoon Elliot Carver, trying to trigger a war between China and Britain – aye, right, the Chinese would really be quaking in their boots at the prospect of a war with Britain.  Pryce is clearly channelling Rupert Murdoch, so what's not to love?
6: The Spy Who Loved Me (1977)
Among Roger Moore's entries (ouch), The Spy Who Loved Me is the one that undeniably belongs in the premier league of Bond movies.  On paper it looks as lazy as all the other ones made in the 1970s and early 1980s – cars that travel underwater, a villain who kills people by dropping them into shark-pools, a giant henchman with steel teeth and a plot that's been copied from 1967's You Only Live Twice, though with stolen nuclear submarines instead of stolen spacecraft.  But it's done with such élan that Moore, director Lewis Gilbert and writer Michael Wood get away with it.  The corking pre-titles sequence here made it a rule for all subsequent Bond movies that they had to begin with a big stunt.  No wonder that in season two of I'm Alan Partridge (2002), Steve Coogan gets upset when he discovers that Michael-the-Geordie has taped over his copy of The Spy Who Loved Me with an episode of America's Strongest Man.  "Now you've got Norfolk's maddest man!" he rages.  Quite.
© Eon Productions
5: From Russia with Love (1963)
Although the first Bond movie, Dr No, sets the template for the series – larger-than-life villain hatches grandiose, ludicrous scheme amid gorgeous locations, gorgeous ladies and exciting action sequences – and the third one, Goldfinger (1964), consolidates that template, the intervening movie From Russia with Love does something a little different, with a scaled-down plot-MacGuffin (getting a Soviet defector to the West with a valuable cryptography device) and a storyline that's unusually gritty and realistic by Bond standards.  Mind you, From Russia with Love still has a great roster of villains – Lotte Lenya's Rosa Klebb, Vladek Sheybal's Kronsteen and Robert Shaw's Red Grant.  Shaw's vicious battle with Connery late in the film has been emulated in other Bond movies – see Brosnan vs. Sean Bean in Goldeneye (1995) or Craig vs. Dave Bautista in Spectre (2015) – but never bettered.  Also praiseworthy is Mexican actor Pedro Armendariz as Kerim Bey, the wise, wily head of British intelligence in Istanbul who takes Bond under his wing.  Tragically, this was Armendariz's last movie – during filming, he was dying from cancer, quite possibly caused by his participation in the notorious 1956 John Wayne film The Conqueror, shot just 137 miles from the location of an atomic-bomb test in Nevada.
4: Skyfall (2012)
Casino Royale and Quantum of Solace (2008), the latter a direct sequel to the former, and both preoccupied with Vesper Lynd and Jesper Christensen's villainous Mr White character, can often seem like they're locked in their own, private, non-Bondian universe.  From the old, pre-Daniel Craig movies, only Judi Dench's M remains.  What makes Skyfall a pleasure is that it starts to join the dots and make the series feel like the Bonds of old again, adding a new Q (Ben Wishaw) and a new Moneypenny (the divine Naomie Harris).  It also, eventually, brings in a new M to replace Dench, Ralph Fiennes, who in a gratifying bit of character-development is initially presented as an arsehole but gradually wins Bond's respect and trust.  Javier Bardem makes a good villain and, when Bond and Dench's M take refuge at Skyfall, the Scottish Highlands estate where Bond spent his childhood, we get a welcome appearance by Albert Finney as the estate's irascible but handy-with-a-shotgun gamekeeper Kincaid.  It's been said that director Sam Mendes originally wanted to cast Sean Connery as Kincaid, which would have been weird… but awesome.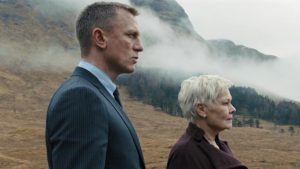 © Eon Productions
3: Licence to Kill (1989)
The dark horse of the series in more ways than one, Licence to Kill got a bad rap because it underperformed at the box office, earned itself a British 15 certificate with its violence, and offended critics who, after condemning the Bond movies for years for being too silly, suddenly started carping about how they missed the loveable silliness of Roger Moore.  However, if you're a Bond connoisseur who likes to see 007 taken seriously, it's one of the best.  Timothy Dalton goes after drug baron Franz Sanchez (Robert Davi) when Sanchez maims Bond's best buddy Felix Leiter (David Hedison) and murders Leiter's wife on their wedding night.  This, of course, echoes what happened to Bond after his wedding back in On Her Majesty's Secret Service (1969), making Licence to Kill a spiritual if not direct sequel to that film.  Much mayhem ensues as Sanchez and his henchmen (Anthony Zerbe, Don Stroud, Everett McGill, Anthony Starke and a young Benicio Del Toro) meet a range of gruesome fates.  The sight of Del Toro's sneering scumbag Dario getting fed into a grinding machine is particularly delightful.  But there's light amid the darkness.  Carey Lowell is excellent as Pam Bouvier, a truly capable and no-bullshit Bond girl, and there's a lovely sub-plot where Desmond Llewelyn's Q turns up to give Bond some unofficial help, showing that however much they've bickered in Q-Branch over the years, the two men are actually friends.  Also, Robert Davi's Sanchez is more than a simple thug.  Valuing friendship and loyalty, he likes Bond when he first meets him and is aggrieved later when he discovers that Bond has really come to destroy him.
© Eon Productions
2: Goldfinger (1964)
The film that ticks all the boxes in the list of things you want from a Bond movie.  Action-packed opening sequence where Bond puts a previous adventure to bed?  Tick.  Shirley Bassey booming her way through a classic John Barry composition?  Tick.  Memorable villains?  Tick.  Gadgets, gimmicks, classy cars?  Tick.  A great Bond girl?  With Honor Blackman, definitely a tick.  A great Bond?  Well, it's Sean Connery, so definitely a tick too.  Basically, the series could have stopped here, because after Goldfinger there was nothing that could be done again any better – The Spy Who Loved Me's refrain Nobody Does It Better might have been written about this film.  Incidentally, Auric Goldfinger's scheme in the movie makes more sense than his scheme in Ian Fleming's 1959 novel.  In the book, Goldfinger just wants to rob Fort Knox, which would be logistically impossible.  In the film, he cannily plans to explode a nuclear device in the fort, making the US's gold reserves unusable and skyrocketing the value of his own gold.
1: On Her Majesty's Secret Service (1969)
It's generally agreed that Australian actor George Lazenby wasn't much cop as an actor.  Ironically, his single movie as Bond, On Her Majesty's Secret Service, is in my opinion the best one of all.  It helps, of course, that the film follows Ian Fleming's 1963 novel closely.  The main change is an upgrading of Ernst Stavro Blofeld's fiendish plan.  In the book, he intends to decimate Britain's agriculture, whereas in the film it's the world's agriculture that he's gunning for.  (Accordingly, the instruments of Blofeld's plan, the disease-carrying 'Angels of Death', are upgraded from a group of brainwashed English schoolgirl-types in the novel to a bevy of brainwashed international glamour-pusses, including Angela Scoular, Anoushka Hempel, Jenny Hanley, Julie Ege and Joanna Lumley, in the film.)  Director Peter Hunt orchestrates some brilliant action sequences on the icy slopes around Blofeld's Alpine lair, the theme tune possibly constitutes John Barry's finest hour, Telly Savalas makes a formidably physical Blofeld, and Diana Rigg is splendid as the confident but simultaneously vulnerable Tracy di Vicenzo, the woman who finally wins Bond's heart and gets him to the wedding altar – though with events taking a dark turn soon after.  It's arguable that because it's so different from the usual entries in the series, wistful in tone and tragic in its ending, the awkward and uncertain Lazenby actually fits in nicely.  Here, Bond appears fragile and wounded, and Lazenby is believable in terms of what the character goes through.  You couldn't imagine Connery swaggering through the movie with his usual insouciance and having the same impact.
© Eon Productions
And now we have a new Bond movie in the cinemas.  Where will 2021's No Time to Die figure in future rankings of the 25 Bond films, from best to worst?  Well, I see that the Guardian's Peter Bradshaw has just given it a five-star review.  So… it's probably rubbish.