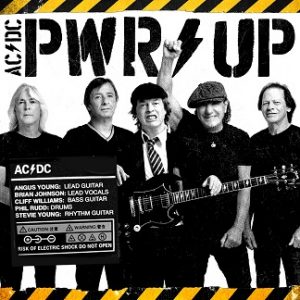 From twitter.com/acdc
You don't need me to tell you that 2020 has been the calendrical equivalent of a giant reeking pile of horse manure.  However, recently, amid the daily tsunamis of bad news, I saw a headline in the Guardian that performed the now-difficult feat of putting a smile on my face.  The headline was: AC/DC REUNITE, FEATURING THREE FORMER MEMBERS.
Yes, AC/DC – the proper AC/DC – are back.
After several years of disarray, the band has got back together with as near classic a line-up as is possible in 2020, with that famously cap-wearing and impeccably gravel-voiced Geordie Brian Johnson on vocals, Cliff Williams on bass, Phil Rudd on drums and Angus Young, presumably still in his schoolboy uniform, on lead guitar.  Alas, Angus's brother Malcolm passed away in 2017 but their nephew Stevie Young has taken his place on lead guitar.  They've returned with a new album called Power Up, to be released in November, and a new single, A Shot in the Dark, which is available now and sounds like every song that AC/DC have done in the last half-century.  That's an assessment that, as any bona fide fan of the band will tell you, is a compliment rather than a criticism.
AC/DC and I go back a long time together.  Their 1979 album Highway to Hell was among the first albums I ever bought.  The album starts with the title track and rarely have a set of opening chords sounded so much like a statement of intent: DUH-DUH-DUH!  DUH-DUH-DUH!  DUH-DUH-DUH, DUH, DUH-DUH!  Here were an outfit, it seemed, who were single-mindedly determined to use their guitars to blow your arse off.  Which was surely what heavy metal, and for that matter, rock and roll itself, were all about.
Around the same time I took it upon myself to throw a party for my school friends at my family's farmhouse in Peebles, Scotland, one Friday when my parents were away for the evening.  Predictably, most of my guests turned up armed with copious and illegitimately purchased bottles and cans of booze.  They also turned up armed with AC/DC records.  Indeed, it seemed that the AC/DC song Touch Too Much, recently released as a single, wasn't off the turntable for the entire, chaotic, alcohol-drenched evening.  No wonder that after that the music of AC/DC was indelibly linked in my mind with images of dissolute and drunken teenage misbehaviour.
Incidentally, during the margin of time between the party ending and my parents returning, I managed to cram all the empty bottles and cans into two big sacks and hide them in the rarely-accessed roof-space of a rarely-used outhouse, where they remained undiscovered for nearly 20 years.  They weren't found until the late 1990s when my parents had the outhouse converted into a holiday cottage.  After the discovery, the building contractor worriedly asked my Dad if he was a secret drinker.
From blabbermouth.net
Sadly, though with a horrible-seeming inevitability, AC/DC's original vocalist Bon Scott died from alcohol poisoning related to heavy-duty partying in 1980.  Briefly, it looked like I'd discovered the band too late, for Malcolm  and Angus Young, the band's driving forces, considered calling it a day at this point.  Instead, though, they recruited Brian Johnson as a replacement and AC/DC rumbled on for a further four decades.
It helped that the band's first post-Bon Scott album, 1980's Back in Black, was a cracker.  It featured such splendid tunes as the title track, You Shook Me All Night Long and the epic Hell's Bells, which begins with the clanging of a huge church-bell before Johnson starts hollering apocalyptic lines like 'Lightning flashing across the sky / You're only young but you're gonna die!"  By now I was in my second-last year at Peebles High School and Hell's Bells never seemed to be off the turntable of the stereo in the upper-school common room.
The nice thing about AC/DC was that they never changed.  No matter what terrible events were happening in the world – wars, revolutions, earthquakes, droughts, famines, Simon Cowell – they just carried on, churning out the same (or very similar) riffs and singing songs about partying, shagging, boozing and having a generally good time.  I soon tracked down and listened to their back catalogue  Their 1976 album High Voltage had an opening track called It's a Long Way to the Top if You Wanna Rock 'n' Roll, which exposed me to the lethal combination of electric guitars and bagpipes.  Despite being officially Australian, the Young brothers and Bon Scott had been born in Scotland and liked to honour their Caledonian roots.  The same year's Dirty Deeds Done Dirt Cheap had a stonking title track and the naughty music-hall pastiche Big Balls, whose lyrics included such gems as "Some balls are held for charity / And some for fancy dress / But when they're held for pleasure / They're the balls that I like best."  Yes, it's sad that I still remember this stuff.  Meanwhile, their 1978 album Powerage was identified by no less a personage than Keith Richards as one of his favourite records ever.
There was a lot of love for AC/DC in the world, though you wouldn't have thought so reading the music press of the time.  Writers in 1980s music magazines like the New Musical Express and Melody Maker, if they got around to acknowledging the band's existence at all, were of the opinion that AC/DC and heavy metal generally represented everything ignorant, crass and embarrassing in the musical world, unlike their two favoured musical genres, punk rock and indie music.  For the record, I should point out I'm a big fan of punk and indie too.
This disdain was shared by many people I met when I went to college in the early-1980s, who were fans of the likes of the Smiths, the Style Council and Simple Minds.  I remember one early college flatmate, a supercilious type who'd been schooled at the prestigious Glasgow Academy, wandering into my room one day, finding me listening to Highway to Hell, and demanding, "How can you listen to that shit?"
To be honest, AC/DC didn't help their cause during the 1980s because they released a series of shonky albums that were shadows of their 1970s predecessors: 1983's Flick of the Switch; 1985's Fly on the Wall; 1986's Who Made Who, which was the musical soundtrack to Maximum Overdrive, writer and big AC/DC fan Stephen King's ill-advised attempt to try his hand at directing a film; and 1988's Blow Up Your Video.  It wasn't until 1990 that the band rediscovered their mojo with The Razor's Edge.  Although it wasn't great, it served up two of their best songs for a long time, Are You Ready and Thunderstruck.  The latter track is so rousing that, Wikipedia informs me, Atlético Madrid play it in their team coach every time they travel to their opponents' stadium for an away game.
From bravewords.com
The band's star was back in the ascendant too because those pretentious music critics who'd dissed them in the 1980s had been replaced by a younger generation of critics who, like me, had grown up listening to and loving AC/DC and were happy to give them some overdue praise.  AC/DC had also proved more influential than anyone had predicted.  Their sound is imprinted on the DNA of acts like the Cult, Foo Fighters, Queens of the Stone Age, Beastie Boys and many more.  It's even said that Back in Black was the first song a 14-year-old Kurt Cobain learned to play on guitar.
Thankfully, the band managed to preserve their reputation through the 1990s and early 21st century with a series of albums that, while not earth-shattering, at least delivered the goods and always yielded a single or two that sounded satisfyingly AC/DC-ish: 1995's Ballbreaker, 2000's Stiff Upper Lip, 2008's Black Ice and 2014's Rock or Bust, which contained the jolly single Play Ball.  As you may have gathered, the word 'ball' plays an important role in the AC/DC lexicon.
But the same year as the release of Rock or Bust everything seemed to go pear-shaped for the band.  First of all, they lost Malcolm Young after memory-loss and concentration-loss caused by dementia left him unable to play.  Later that year, the band parted company with Phil Rudd after he ended up in court on drugs charges and, bizarrely, an allegation of 'attempting to procure a murder' (though this was dropped soon after).  Then in 2016, Brian Johnson departed due to damaged hearing, which he claimed was caused less by his fronting one of the world's loudest bands than by his indulgence in auto-racing.  And in 2016 too Cliff Williams announced his retirement and played his supposedly final gig with the band.
What was left of AC/DC continued performing with Axl Rose, of legendary glam-metal band Guns n' Roses, doing vocal duties.  Rose's recruitment was met with dismay by many fans, though I have to say I don't dislike Axl Rose or Guns n' Roses.  Indeed, their albums Appetite for Destruction (1987), Use Your Illusion I and II (1991) and The Spaghetti Incident (1993) occupy prominent places in my record collection.  It's just that Rose's tremulous American voice didn't sound right singing the AC/DC back catalogue.  Also, it didn't help that he debuted with AC/DC confined to a wheelchair thanks to a broken foot and looking like a heavy metal version of Doctor Strangelove.  This hardly seemed to bode well for the vitality of this weird new incarnation of the band.
Anyway, that's all academic now because, thankfully, the real AC/DC are ready again to strut the world's stages.  Well, once this pandemic comes to an end, whenever that will be.  Let's hope that to the list of ghastly things to which AC/DC and their gloriously unchanging sound are impervious – wars, revolutions, earthquakes, droughts, famines, Simon Cowell – we can add the coronavirus too.
© Albert Productions