© ITV / ABC / Thames
2020 has been a rotten year and I suspect it still has more rottenness in store.  One of the many reasons why I've found it so godawful has been because it's seen the deaths of two actresses who meant a lot to me, firstly because they both had leading roles in James Bond movies and I'm a big James Bond fan, and secondly because they both starred in one of my favourite TV shows, The Avengers (1961-69).  I'm talking, of course, about Honor Blackman, who died in April, and now Diana Rigg, who died last week.
I never got to see Diana Rigg perform on stage, where she appeared in plays by Edward Albee, Bertolt Brecht, Anton Chekov, Noel Coward, Henrik Ibsen, Molière, Jean Racine, George Bernard Shaw, Tom Stoppard, Tennessee Williams and, obviously, William Shakespeare.  Nor did I catch her when, after becoming a Dame in the mid-1990s and being recognised as a national treasure, she appeared in prestigious TV productions like Rebecca (1997) or Victoria & Albert (2001), both of which resulted in her winning or being nominated for Emmy Awards.  I was living abroad and didn't have access to English-language TV at the time.
I didn't even watch her much-praised performance as Olenna Tyrell in the TV show Game of Thrones from 2013 to 2017, since I thought I should first read the George R.R. Martin books on which the show was based – something I've yet to get around to doing.
Despite what I've missed, however, I offer here a collection of Diana Rigg performances that I have seen and remember fondly.
Playing Tracy di Vincenzo in On Her Majesty's Secret Service (1969)
On Her Majesty's Secret Service is ostensibly about James Bond (George Lazenby in his one-and-only shot at the role) tangling with his arch-enemy Ernst Stavros Blofeld (Telly Savalas).  However, it also explores Bond's emotional side and highlights his vulnerability.  Key to this is OHMSS's sub-plot about the romance between Bond and Contessa Theresa 'Tracy' di Vicenzo (Rigg), daughter of the boss of the crime syndicate the Unione Corse of Corsica.  At the film's end, Blofeld is seemingly vanquished and Bond and Tracy get married.  Then Blofeld makes a sudden reappearance in the final scene, sprays their honeymoon car with bullets, kills Tracy and leaves Bond as a babbling wreck.
Fascinatingly, for a film franchise that's often accused of de-humanising the Ian Fleming novels that inspired it and emphasising big, dumb spectacle at the expense of characterisation, Tracy is a more fleshed-out character in OHMSS-the film than in OHMSS-the-novel.  She's given more to do and, played by Rigg, has a sparkle that's missing in the rather aloof, ambiguous character that Fleming sketches.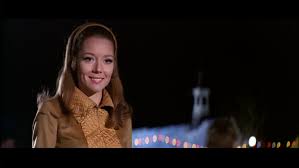 © Eon Productions
Particularly memorable is her appearance after Bond escapes from Blofeld's Alpine headquarters.  Hunted by Blofeld's henchmen, exhausted, frightened even – something that Lazenby, despite or perhaps because of his acting inexperience, conveys well – he takes refuge in a crowded Christmas market / ice rink in the local town.  Just as he thinks he not going to make it, Rigg comes to his rescue, unexpectedly skating into view in front of him like some heaven-sent angel of mercy.
Playing Sonya Winter in The Assassination Bureau (1969)
On Her Majesty's Secret Service wasn't the only instance in 1969 of Diana Rigg rubbing shoulders with Telly Savalas.  In Basil Deardon's black comedy The Assassination Bureau (based on an unfinished Jack London novel), she plays an aspiring female journalist in Edwardian London sent by Savalas's unscrupulous newspaper proprietor to investigate a secret criminal organisation offering assassins for hire.  Armed with a bagful of money that Savalas has provided, Rigg brazenly hires this Assassination Bureau to assassinate its own chairman, Ivan Dragomiloff, who's played by Oliver Reed.  Admiring Rigg's audacity, Reed accepts the commission and, with her in tow, spends the movie zigzagging around Europe dodging the efforts of his own board of directors to kill him.
It's a pleasantly silly film and, admirably, doesn't waste any time in setting up its convoluted premise and getting into the action.  Rigg is delightful as the uppity Sonya Winter, determinedly doing her job and flying the flag for women's rights amid a world of starchy, patronising male chauvinists.  Meanwhile, Reed had only just played the brutish Bill Sikes in Oliver! (1968) and at the time was in contention to play James Bond, although his reputation for drunken offscreen hi-jinks put 007 producers Cubby Broccoli and Harry Saltzman off the idea.  His pairing with Rigg in The Assassination Bureau is no beauty-and-the-beast affair, however.  He dials down the roughness and dials up the charm so that their chemistry together is actually very pleasing.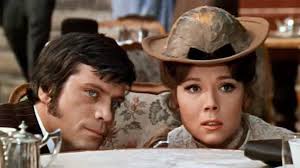 © Paramount Pictures
Playing Edwina Lionheart in Theatre of Blood (1973)
Douglas Hickox's brilliant comedy-horror movie Theatre of Blood has Vincent Price as an insane and hammily over-the-top Shakespearean actor who starts killing the snobbish London theatre critics who've bad-mouthed his performances, using murders methods borrowed from the Bard's plays.  "They're not going to start killing critics for giving bad notices, are they?" exclaims the campest critic Meredith Merridew, played by Robert Morley, who eventually meets a grisly fate modelled on events in Titus Andronicus.  As the corpses pile up, murdered in ways suggested by Julius Caesar, Troilus and Cressida, Cymbeline, Richard III, Henry VI: Part One and even The Merchant of Venice (Price rewrites it so that he can extract a pound of flesh from Harry Andrews), the youngest and least obnoxious critic, played by Ian Hendry, and the investigating police officers, played by Milo O'Shea and Eric Sykes, turn to Lionheart's supposedly normal daughter, Edwina (Rigg), for help.
Distraught about what her father is doing, yet repulsed by the critics who destroyed his career, Edwina is initially a troubled and conflicted character.  Yet as the film progresses, it transpires that Rigg is having as much fun in her role as the Bard-quoting, soliloquizing Price is in his.
Taking the mickey out of herself in The Morecambe and Wise Show (1975), The Great Muppet Caper (1981) and Extras (2006)
Rigg never took herself too seriously.  She teamed up with Britain's most famous comic double-act Morecambe and Wise for their 1975 Christmas TV special, where she appeared in the inevitable Ernie Wise-penned play.  This featured Rigg as Nell Gwynne, Eric Morecambe as Charles II and Wise as Samuel Pepys.  ("Have you read Ernie's play?" demands Morecambe.  "Yes, I have," replies Rigg.  "And you're still here?")  Better still is her appearance in The Great Muppet Caper, the second movie starring Jim Henson's much-loved puppets, in which she plays the snooty fashion designer Lady Holiday, who's robbed of her jewellery by a gang led by her devious brother (Charles Grodin).  Predictably, Miss Piggy approaches Rigg in the hope of securing a job as a fashion model and insists on showing Rigg her portfolio: "This is me reeking grandeur!"
And then there's a 2006 episode of Ricky Gervais and Stephen Merchant's comedy show Extras, which is about a struggling actor (Gervais) trying to make ends meet with bit-parts and uncredited roles in films and on television.  This scenario enables the show's gimmick of having real, famous actors and actresses play versions of themselves – usually twisted, unpleasant versions.  In this particular episode, Gervais gets a three-day job in a new fantasy film starring the then-17-year-old Daniel Radcliffe and Dame Diana Rigg.  The joke is that Radcliffe is a randy, boorish and clueless teenager.  Whilst eating with him in the studio canteen, Radcliffe tries to convince Gervais that he's a man of the world by whipping a condom out of his pocket – he's unravelled it but seems to think he can still put it on – and then accidentally pings it through the air to a nearby table, where it lands on the unamused Rigg's head.  Radcliffe asks her for his 'johnny back' and gets a schoolmistress-ly reply: "May I have my prophylactic back, please?"
Later, Radcliffe sidles up to her and inquires, "You still got that catsuit from The Avengers?"  Rigg retorts: "Go away, Daniel."
© BBC / HBO
And that brings me nicely to…
Playing Emma Peel in The Avengers (1965-67)
By the time Rigg joined The Avengers in the mid-1960s, the show, under the guidance of creator Brian Clemens, had gradually mutated from being a conventional action / thriller show with Patrick Macnee's John Steed and Ian Hendry's Dr David Keel as a pair of crime-fighters to being a television phenomenon that did everything on its own terms, both determinedly non-realistic and restlessly inventive.
Rigg's tenure on The Avengers was surely its golden era.  With her Emma Peel character partnering Macnee's now surreally debonair Steed, and the show being broadcast in colour for the first time, it was a self-confident cocktail of the funny, the silly, the fantastical, the baroque and, occasionally, the gothic and the kinky.  (The kinkiness factor came to the fore in an episode called A Touch of Brimstone, wherein Rigg dons a costume comprising a spiked collar, whalebone corset, black leather boots and a snake.  Funnily enough, this attracted the highest viewing figures of any episode in The Avengers' eight-year history.)
Rigg brought to the show a bemused, unruffled quirkiness that was the equal of Macnee's majestic imperturbability.  She was also his equal in being proactive, having no qualms about wading into fights to show off her martial arts prowess or hurtling around in a Lotus Elan.  As a villain in one episode remarked, "She's well and truly emancipated, is that one."
Rigg wasn't comfortable about the fact, but Emma Peel also became a sex symbol.  She couldn't well avoid it, being ephemerally gorgeous and clad in a succession of leather catsuits, mini-skirts and mod-inspired outfits that, inevitably, ended up being sold in the ladies' fashion shops of the real Britain.  Wisely, though, sex was off the agenda in her character's onscreen relationship with Macnee's Steed.  The two indulged in a relaxed, platonic flirtatiousness and left it at that.  Macnee did get a kiss from her at the end of her final episode on the show, when she left him with the parting advice: "Always keep your bowler on in times of stress, and watch out for diabolical masterminds."
Appearing at the height of the swinging 1960s, but tongue-in-cheek and light-hearted rather than smug, which is how I find many productions from the time, The Avengers, and especially the Emma Peel-era Avengers, projects a charming and not-taking-itself-seriously notion of Britishness that seems light-years removed from the discredited, embittered, clapped-out Britain of 2020.  The death of Diana Rigg, who'd been one of the last links with the show, just seems to emphasise that it's now all in the past.
© ITV / ABC / Thames