© Decca Records
There was an old man named Michael Finnegan,
He grew whiskers on his chin-e-gan.
Up came the wind and blew them in again,
Poor old Michael Finnegan.
Begin again.
There was an old man named Michael Finnegan…
So runs a particularly disturbing children's rhyme / song I remember from my boyhood.  It's disturbing because it's never-ending.  You sing those 27 words about poor old Michael Finnegan and the whiskers on his chin-e-gan, then you say, 'Begin again', and off you go again, repeating the same verse into infinity – or until you and / or your listeners go insane.  And I recall kids in the playground at my primary school who had nothing better to do but test their own endurance, and test other people's endurance, by singing Michael Finnegan for as long as they could.  I even seem to recall the Irish singer Val Doonican, that knitwear and rocking-chair-loving easy-listening troubadour who had his own show on BBC TV from the mid-1960s to the mid-1980s and who was much admired by 'ladies of a certain age', performing it on television one evening.   Wow.  Val Doonican singing Michael Finnegan over and over again, for all eternity.  That sounds like a very specialised version of hell.
Anyway, like Michael Finnegan's whiskers, I'm afraid this blog has had to begin again.  In recent weeks it had been hacked into a couple of times.  Despite the efforts of the technical support people at the webhosting company, it was no longer possible to restore the site from back-up – too many longstanding files had been infected, leaving the door open for future hacking.  So, reluctantly, I agreed to have the site eviscerated of its files so that I could set it up again with a clean sheet.  That's why it's in the highly functional, impersonal-looking state it's in at the moment, but hopefully I will be able to improve its appearance when I have time.
It's a shame this happened, as the blog had been puffing along fairly happily since 2012 and I had posted over 750 entries, which of course are all down now.  I have, however, saved the majority of those past entries as Word files and I will hopefully repost some of the more interesting ones over the weeks and months to come.  (Obviously, though, there's no point in reposting many of them as they were strictly 'of their time' – my ruminations about Tunisian politics after the revolution of 2011, written while I was living in Tunisia, for example; or my pontifications about Scottish politics in the run-up to the Scottish independence referendum of 2014.)
Meanwhile, to hold the fort, here are some updates on pieces of writing I have recently had published, under my various pseudonyms, with links to where to find them.
© Aphelion Webzine
Published under the pseudonym Jim Mountfield (the name I use for horror fiction and dark stuff generally):
© Schlock! Webzine
Published under the pseudonym Rab Foster (the name I use for fantasy fiction):
Closing Time at the Speckled Wolf, a short story I had published in Aphelion webzine 14 months ago, was listed in its final edition of 2019 as one of the webzine's best stories of the year. It can be accessed here.
My short story The World Builder was the featured story in the Halloween 2019 edition of Blood Moon Rising magazine and is still available here.
And published under my real and very boring name Ian Smith:
My short story The Yellow Brick Road was published in Volume 2, Issue 2 of the Sri Lankan literary magazine Write. Unfortunate timing meant that the issue went on sale just a few days before the Sri Lankan authorities announced an ongoing curfew in reaction to the Covid-19 pandemic.  However, there are signs that the curfew is now being eased slightly, and as far as I know, copies of Write are available at the Barefoot Shop at 704 Galle Road, Colombo, which has definitely been open in recent days.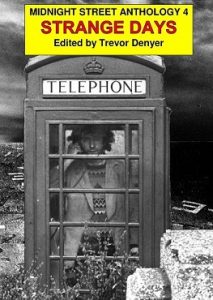 © Midnight Street Press
And that's everything for now.  Hopefully, normal service will, as they say, be resumed as soon as possible.