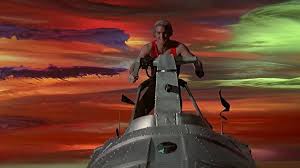 © Dino De Laurentiis Company / Universal Pictures
Not for the first time, I find myself wondering if I'm the only person who's still sane in a world that's gone mad.  And this time what makes me feel that everyone else has lost their marbles is the amount of praise and adulation being heaped on Mike Hodges' sci-fi / comic-book movie Flash Gordon at the moment – this being both the 40th anniversary of its original release in 1980 and the occasion of its re-release on modern-day streaming platforms.
In the Guardian recently Peter Bradshaw awarded it four out five stars, hailed it for its supposed expressionism (its 'operatic theme', its 'bizarre 2D studio sets' and its 'eyeball-frazzling colour scheme') and made a somewhat dubious claim that it'd inspired 'every 21st-century Marvel movie'.  Meanwhile, the Standard's Charlotte O'Sullivan also gave it four out of five stars and described it as a 'marvellously terrible romp' – well, in my opinion, you could argue that she was half right there.  And the venerable sci-fi / fantasy media magazine Starburst recently published a list of the best 80 sci-fi / fantasy movies of the 1980s, in which Flash Gordon was placed ahead of David Lynch's Blue Velvet (1986), George A. Romero's Day of the Dead (1986), Alex Cox's Repo Man (1984) and Terry Gilliam's Time Bandits (1980) and Brazil (1985).
The sound you hear is the sound of my teeth grinding.
I'll be blunt.  I thought Flash Gordon was rubbish when it came out in 1980 and 40 years later, despite what often happens when you have both the benefit of hindsight and the rose-tinted spectacles of nostalgia, I still think it's rubbish.   The beef I have with the film is that it makes a joke of its two sources of inspiration, the Flash Gordon comic strip created by Alex Raymond in 1934 and the three movie serials based on the strip and starring Larry 'Buster' Crabbe that were made in 1936, 1938 and 1940.  Tasked with putting Flash Gordon onto the big screen in 1980, the filmmakers took the easy route of playing the character for laughs.
This is regrettable because during the same period other filmmakers took their inspiration from similar old comic strips and movie serials but made an effort to adapt them into films that, while poking some knowing fun at their subject matter, did so in an affectionate and proportionate way and were still mightily entertaining at the end of the day.  I'm thinking here of the first two Superman films (1978 and 80) with Christopher Reeve and Steven Spielberg's Raiders of the Lost Ark (1980).  In fact, those films remind me of something Mark Gatiss once said about Billy Wilder's mildly tongue-in-cheek 1970 movie The Private Life of Sherlock Holmes: that it gently takes 'the mickey out of Sherlock Holmes in the way you can only do with something that you really adore.'
© Dino De Laurentiis Company / Universal Pictures
There wasn't much evidence that Flash Gordon's producer, the old-school Italian movie mogul Dino De Laurentiis, adored or, indeed, knew anything about the original comic strip and movie serials.  However, Flash's fate was sealed when old Dino – who, thanks to a CV that included Death Wish (1974), King Kong (1976), Orca: Killer Whale (1977), Amityville II and 3-D (1982 and 83), Dune (1984) and Maximum Overdrive (1985), was known in some quarters as 'Dino Di Horrendous' – signed scriptwriter Lorenzo Semple Jr onto the project.  Semple Jr was responsible for the 1966-68 TV version of Batman, which had sent up the Caped Crusader in an extremely camp fashion.  Incidentally, I'm not using 'camp' here in the 1909 Oxford English Dictionary definition of it, as meaning 'ostentatious, exaggerated, affected, theatrical, effeminate or homosexual'.  No, I'm using 'camp' in its simpler meaning of 'so bad it's good'.
This camp approach meant that the Batman TV show was ridiculous, but with the intention that kids wouldn't recognise the ridiculousness and would merely enjoy the derring-do, while adults would recognise it and would have a good time laughing at it.  Hence, 'so bad it's good'.
(Ironically, most films that are regarded as classic entries in the 'so bad they're good' category, from Ed Wood's oeuvre in the 1950's to Tommy Wiseau's epic 2003 clunker The Room, were actually intended to be proper, serious movies.  They were never meant to be bad, but ended up so because of their makers' entertaining incompetence.)
I assume it's largely because of Lorenzo Semple Jr that Flash Gordon turned out the way it did.  Mind you, Dino already had form in the camp stakes for in 1968 he'd produced sci-fi / fantasy movie Barbarella, directed by Roger Vadim and based on the comic strip by Jean-Claude Forest.  With its baroque sets, garish costumes and lurid skyscapes, it's obviously a visual influence on the later Flash Gordon, but it also blazes a trail by being intentionally and supposedly-hilariously silly.  I have to say I find Barbarella excruciating.  It's painfully unfunny in nearly all its parts and also grotesquely sexist, with Vadim's camera leering over the naked and near-naked flesh of its star (and Vadim's then wife) Jane Fonda.  Plus it's imbued with an irritating swinging-sixties smugness that makes me want to punch a hole in the wall.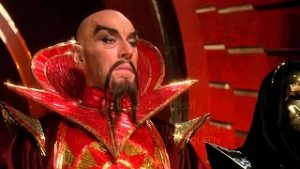 © Dino De Laurentiis Company / Universal Pictures
I don't think Flash Gordon is as bad as Barbarella, but when I saw it as a teenager, and any time I saw bits of it on TV afterwards, I always found it a grim experience.  It's depressing how scenes that were meant to have the viewer chuckling at the glorious silliness of everything just left me cringing.  The worst moment is when Flash (Sam Jones) takes on a squad of red-armoured goons employed by the villainous Emperor Ming (Max Von Sydow) in a brawl in Ming's throne-room that morphs into an American football match.  Flash and Professor Zarkov (Topol) pass a ball-sized metal orb between them,  Flash charges into the goons and scatters them like ninepins, and Dale Arden (Melody Anderson) does a cheerleading routine ("Go, Flash, go!") on the side.  Oh, and any time a goon gets too close to the delegation of Hawkmen led by Prince Vultan (Brian Blessed), Vultan goes, "Ho-ho-ho!" and bonks the goon on the head with his metal staff.  Funny, eh?  Well…
I'm not blaming the director Mike Hodges, who was responsible for the gritty British crime classic Get Carter (1970).  I assume that with Flash Gordon, for reasons of his own sanity, Hodges just pointed his cameras in the right direction and didn't think too much about what was ending up in the can.  However, I wonder what might have happened if the visionary director Nicolas Roeg, who'd originally been signed to make Flash Gordon and had spent a year working on its pre-production, had actually been given a chance to direct it.  The results might have been astonishing…  But on the other hand, considering how another big sci-fi collaboration between Dino De Laurentiis and a visionary director, David Lynch, created the turgid shambles that was Dune (1984), I suppose the Dino-produced, Roeg-directed Flash Gordon could have been shite too.
I'll stop the Dino-bashing for a moment to point out that he did subsequently produce Lynch's excellent Blue Velvet.  Credit where it's due and all that.
To be fair, Flash Gordon does have a few good scenes, for example, when Prince Barin (Timothy Dalton) forces Flash to stick his arm into a hollow tree-stump that's infested with poisonous alien creepy-crawlies, or when Vultan forces Flash and Barin to fight each other on a platform that has lethal spikes popping out of it at random places and at random moments.  The latter scene was choreographed by the late, legendary fight arranger William Hobbs.  it's telling, though, that these good bits are ones that are played straight rather than for laughs.
And although I can't say the central performances of Sam Jones, Melody Anderson and Topol made much impression on me, I'll happily praise the efforts of the supporting cast – Von Sydow, Dalton, Omella Muti as Princess Aura, the splendidly silky Peter Wyngarde as Ming's sidekick Klytus.  Also, a number of familiar faces make welcome appearances in smaller roles, such as playwright and occasional actor John Osborne (who played the key villain in Get Carter), sinewy character actor John Hallam (who wasn't in Get Carter but was in a lot of other British crime movies at the time, like 1971's Villain, 1973's The Offence and 1975's Hennessey), and Richard O'Brien, who co-created The Rocky Horror Picture Show (1976).
Of course, one performance in Flash Gordon that's memorable, if not exactly noted for its subtlety, is that of Brian Blessed as the Hawkmen's leader Prince Vultan.  As portrayed by Blessed, Vultan is half-Viking, half-turkey, and 100% pure ham.  I wonder if Blessed regrets attacking the role with such exuberance.  He must get fed up nowadays, 40 years after the event, when people still approach him and ask him to recite, or more accurately bellow, his most famous line in the film: "GORDON'S ALIVE!"  Indeed, if you're to believe Blessed, no less a personage than Queen Elizabeth II once asked him to shout the line for her royal pleasure.
While I marvel at the unfathomable love people feel for this dire film, I suppose I shouldn't be surprised by another thing that Blessed has claimed about the Queen.  Apparently, she's told him that Flash Gordon is her favourite movie and she makes a point of watching it with her grandchildren every Christmas.  In other words, in Britain at least, the Flash Gordon rot extends right to the top.
© Dino De Laurentiis Company / Universal Pictures